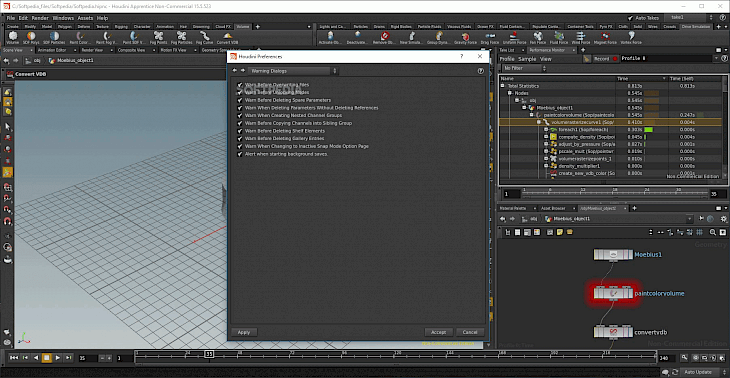 Download Houdini
HOUDINI is an animation software application that is worked on 3D and developed by SideFX, which is a company based in Toronto. The software was released in October 1996, and the organization adapted Houdini from the prisms suite of procedural generation software tools. The software's unique feature of having exclusive attention to procedural generation distinguishes it from other 3D computer graphics software. The software has been used in many feature animation productions, that include Disney's feature films Fantasia 2000, Zootopia, and Frozen; DNA Productions' Ant Bully, and the Blue Sky Studios film Rio. The software is most commonly used in FX departments for the creation of visual effects in a number of scenes in film and games. It is also used by major VFX companies such as Pixar, DreamWorks Animation, Walt Disney Animation Studios, Double Negative, Sony Pictures Imageworks, Method Studios, ILM, MPC, Framestore, The Mill, and others. The software also publishes a partially limited version called Houdini Apprentice, that is made for users completely free of charge and also for non-commercial use.
The software's procedural nature is found in its operators. The digital assets in the software are generally constructed by connecting sequences of different kinds of operators. This procedure has several advantages for its users as it allows users to construct highly detailed geometric or different kinds of organic objects in comparatively very few steps compared to other packages; it enables and encourages non-linear development, and new operators can be created in terms of existing operators, a flexible alternative to non-procedural scripting often relied on upon other packages for customization. Houdini uses this procedural paradigm throughout: for textures, shaders, particles, "channel data" (data used to drive animation), rendering and compositing.
Features of HOUDINI
Animation: The software allow users to have a keyframed animation and raw channel manipulation (CHOPs), motion capture support.

Dynamics: The platforms allows users to work on Rigid Body Dynamics, Fluid Dynamics, Wire Dynamics, Cloth Simulation, Crowd simulation.

Rendering: The platform allows users to ship projects with its native and powerful rending engine Mantra, but the Houdini Indie license (Houdini version for indie developers) that supports other 3rd party rendering engines such as Renderman, Octane, Arnold, Redshift, V-ray, Maxwell.

Compositing: The platform allows a full compositor of floating-point deep (layered) images.

Plugin Development: The platform consists of development libraries for user extensibility.

Modeling: The software contains all standard geometry entities, including Polygons, (Hierarchical) NURBS/Bézier Curves/Patches & Trims, Metaballs.

Particles: The platform consists of particles for a more designed use.

Lighting: The platform consists of a node-based shader authoring, lighting and re-lighting in an IPR viewer.

Volumetrics: With the help of native CloudFx and PyroFx toolsets, users can create clouds, smoke, fire and many other kinds of different simulations.
Installation Requirements for HOUDINI
To install the HOUDINI on PC, make sure that the following requirements are met by the user in the PC desktop.
PC – Make sure that your PC is on Windows 7 or higher with at least 4 GB of RAM.

Compatibility Mode is enabled.
How to Download HOUDINI on Windows
Follow the below steps to download and install the HOUDINI on your PC:
Go to HOUDINI's website, and go to Downloads.

Click on Download Now.

Select 'Save' to download the program. The file will be saved in the Downloads folder.

If you want to save in a specified folder on your desktop, then click on 'Save As' and select the folder you want the program to be saved.

After the download is complete click on the .exe file.

The installation process will start.

Run the installation package.

Wait until the update completes

Follow the Windows installation instructions and select options accordingly.

Click on Finish to complete the installation.

The program icon will appear on the desktop.

Select the icon to start the application.
You might also like