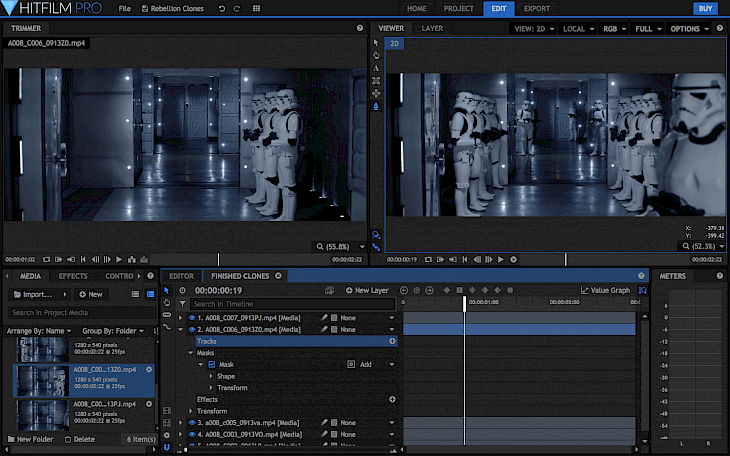 Download HitFilm Pro
HitFilm Pro is a non-linear video editing and animation app designed to create special effects. Editor can be successfully used both for editing video clips and post-production.
The most important function of HitFilm Pro is ability to create and edit 3D composition in similar way to Adobe After Effects. The user has full control over the virtual camera in configuration options (depth of field generation, animate the position, etc.).
The application offers over 500 FX with including the ability to create 3D shadows, generating molecules activate the blur effect for layers, creating masks and realistic lights, importing data from a 3D camera tracking application, add transitions, the ability to generate explosions, snow, rain, fire, etc.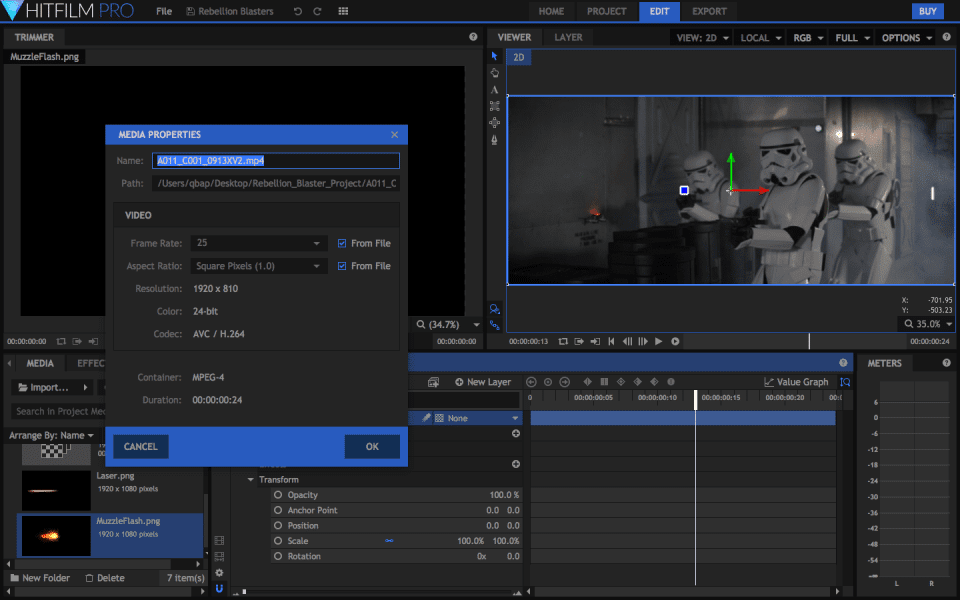 HitFilm Pro also offers a set of professional color editing filters that allow you to create the right look for you film. The authors have prepared more than 30 ready-color effects, which can be activated directly drag them to the selected clip or clips.
To work with the editor, you can use the most popular formats of video, audio and graphics. HitFilm supports formats such as WMV, MP4, AVI, MOV and MXF. The application allows you to work on an unlimited number of audio tracks and video and allows for mixing the composition of 2D and 3D.
Changelog
HitFilm Pro Version 15.0
A new Preference option allows the root folders of a new layer to be open by default, in the controls panel.
Additional plugin presets have been added to the Grid and Lightning & Electricity effects.
The zoom options in the Viewer panel now allow a wider range of zoom levels.
Added the ability to export audio using the WAV format.
Added the GoPro FX Reframe effect, for fully customizing the framing of your 360º footage.
Added a Track Select tool, to select everything to the left or right of the playhead.
New mask shapes allow you to create and customize Rounded Rectangle, Polygon, and Star shaped masks.
The Crop / Pan & Zoom effect allows you to crop the contents of a clip, and animate the crop to control which area is shown.
Four new templates for lower thirds have been added: Banners, Flashy Double, Peeking with Line, and Smooth Blocks.
Added a Motion Track effect, for easily attaching a timeline object to a specific element in the scene.
Added the Color Adjustment effect to allow a range of selected colors to be shifted (originally designed for Imerge Pro).
The new Auto Stabilizer effect provides easy smoothing of motion in handheld video clips.
You might also like