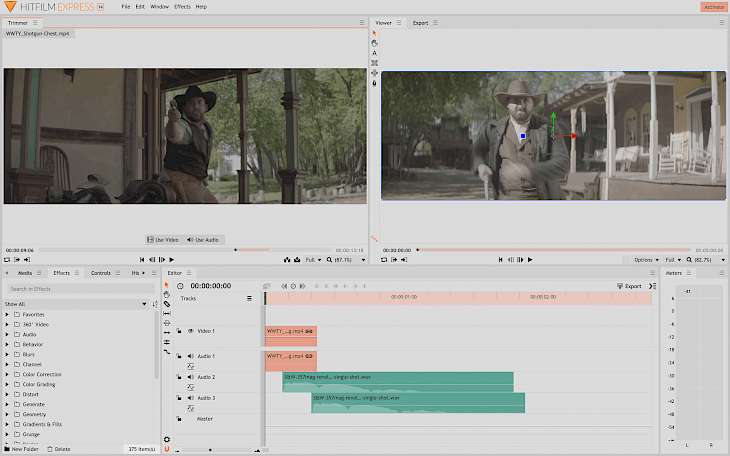 Download HitFilm Express
HitFilm Express is a free non-linear video editing and animation software with professional tools to create amazing content. The editor is packed with a range of powerful non-linear editing and its also compositor's toolkit with over 400 unique effects and presets. HitFilm Express is released for Windows and Mac.
Download HitFilm Express Free for Windows and create amazing video edits and compositions. The program works on a 64-bit system and was tested to operate from Windows 8 and up to Windows 10, and macOS 10.13 High Sierra or above. This is the best free video editing software with professional VFX tools.
The most exciting feature of HitFilm Express is the ability to create and edit 3D composition. If you did work with Adobe After Effects you will find the HitFilm software very familiar. The user has full control over the virtual camera in configuration options (depth of field generation, animate the position, etc.).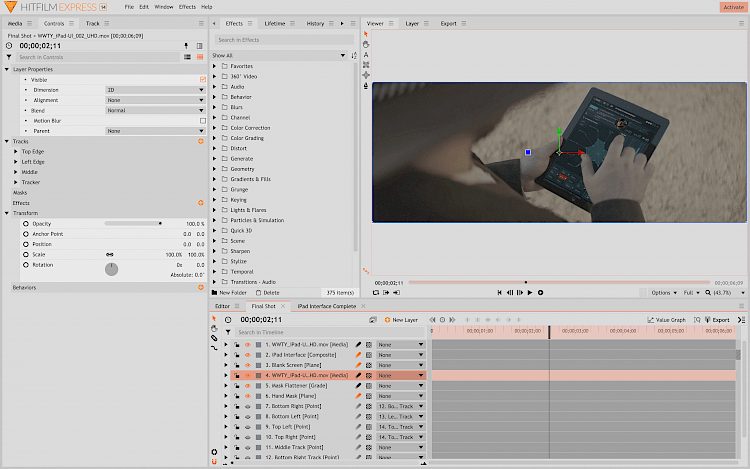 The video editing software offers over 400 unique effects and presets. Create 3D shadows, generate weather systems, grow your own cities or summon swarms of creatures with the powerful emitter and particle simulator, apply blur effect for layers, create masks, and realistic lights, import data from a 3D camera tracking software, add transitions, generate explosions, snow, rain, fire, etc.
HitFilm Express is the most powerful software for video editing that is freeware. Ther is nothing better, and noting that you could compare it to. Ok, maybe to a few commercial video editing software, but still in most cases the HitFilm product beats them in miles. It's really hard to imagen that this software is absolutely free.
HitFilm Express also offers a set of professional color editing filters and grading tools that allow you to create a new look for your film. HitFilm Express's collection of color grading tools lets you customize your own look and lighting. Each tool can be applied to the entire shot or specific areas of the frame.
Install the HitFilm Express LUT plugin to quickly apply your favorite cinematic color scheme or perfectly match the color grade from another clip or image.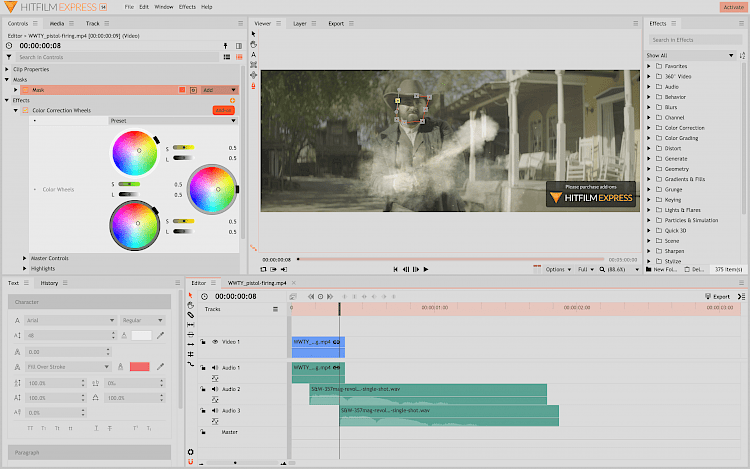 There is more! HitFilm Express Free provides keying and extraction plugins. Advanced chroma key (high-quality removal from the blue or green screen), matte cleaning, spill suppression, and auto light wrap combine with sophisticated 2D and 3D layering to create realistic green-screen composites.
HitFilm offers also access to powerful and advanced tracking tools. 2D tracker is can quickly track moving objects in your videos. Once you've tracked the object you want, you can replace the object or add a moving text. What's more, import 3D camera tracking data from Boujou, SynthEyes, and PFtrack.
If you need even more power HitFilm Express includes a special version of Mocha from Imagineer Systems, the Award-winning planar tracking technology.
To work with the video editor, you can use the most popular formats of video, audio, and graphics. HitFilm Express supports formats such as WMV, MP4, AVI, MOV, and MXF. The application allows you to work on an unlimited number of audio and video tracks and allows for mixing the composition of 2D and 3D.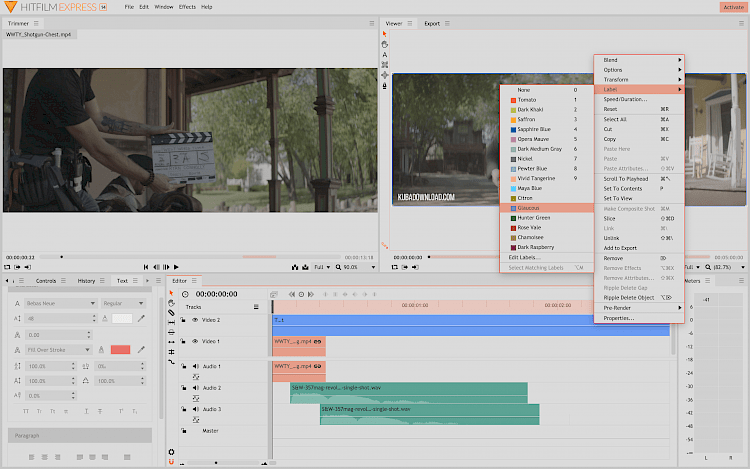 What's more, HitFilm Express offers support for a number of 3D formats including OBJ, LWO, and 3DS. Import and apply any texture to any model, and animate objects and shoot with virtual cameras and lights. Alembic ABC and Filmbox FBX can also be imported with geometry animation for individual models and groups.
Overall, HitFilm Express is the best free editing software for Desktop. It can be used as a video editor where you add clips and audio to the timeline, and also as a professional 3D compositing platform. Adding new effects is as easy as you would expect from professional software like After Effects. Download HitFilm Express, and try the possibilities that offer this free editing software.
With HitFilm Express you can work with 3D tracking data, color grade your video like a professional. HitFilm Express offers it all. The full list of HitFilm Express features is available on the official HitFilm webpage.
What can you do with HitFilm Express?
The best free editing software - HitFilm Express - can create stunning effects. On the official HitFilm YouTube channel, you can find a lot of tutorials and examples of professional-looking videos created in the free version of the software. Learn how to create effects like tracking objects, make titles, close objects using masks, create realistic blasters, and more using free HitFilm Express.
HitFilm Express Add-ons
Installing Ignite Pro Add-ons pack that is available for download from our software hub you can extend possibilities offered by the free version of HitFilm Express. Using Ignite Pro you will make free HitFilm Express even more powerful.
Ignite Pro gives you over 185 plugins to fire up in After Effects, Premiere Pro, Final Cut Pro, or any other major host. Experiment with over 560 visual effects, presets, and the industry's best suite of 360° filters. HitFilm Express 2020 offers a built-in addons manager allowing you to install plugins directly from the editor interface.
System requirements
Apple: Mac OS 10.13 High Sierra, OS X 10.12 Sierra or OS X 10.11 El Capitan
Windows: Windows 10 (64-bit), Windows 8 (64-bit).
Processor: Intel Core i3, Core i5, Core i7 or AMD equivalent
RAM: 4GB (8 GB Recommended)
Graphics card:
NVIDIA GeForce 600 (Kepler) series (2012)
AMD Radeon R5 240 (2013)
Intel HD Graphics 5000 (GT3) (2013)
Video memory 1 GB minimum (2GB or more required for 4K UHD.)
Activate HitFilm Express
If you already have a license:
Choose Activate & Unlock.
Sign in with your FXhome website account details.
Follow the on-screen instructions.
If you don't have a license yet:
Go to https://fxhome.com/hitfilm-express.
Follow the links to claim your free copy of HitFilm Express.
Return to the program, and choose Activate & Unlock.
Sign in with your FXhome website account details.
Follow the on-screen instructions.
You might also like