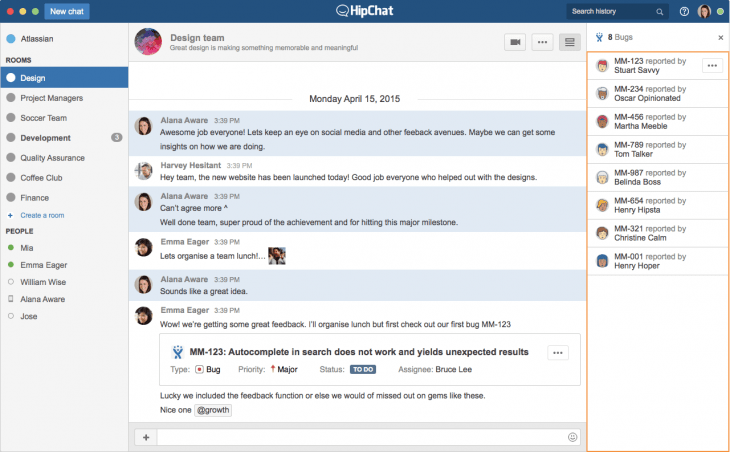 Download HipChat
HipChat is a platform designed to have real-time communication among team members or colleagues. This software provides a platform for instant messaging, sharing ideas and files with your team in real-time. Enhance your messaging experience with custom emoticons, animated GIFs, and Twitter notifications available on this platform.
This excellent software enables the users to perform various functions including real-time screen sharing and video calling. HipChat acts as a storage tool with web integration for online communication. The users can easily access the old conversations and chat history in just a few clicks by using this fantastic social software. This platform also supports private conversations.
The application notification will keep you updated on what happened in your conversations or messages while you were away. HipChat is developed to provide chat services for a business environment or gives a professional angle within the system.
FEATURES
Privacy
This chat service platform keeps all your conversation and shared file secured. HipChat transferred the conversations in 256-bit SSL encryption.
Screen-sharing
While discussing an important topic, share your screen with your team or colleagues to present your side more effectively.
Secure Guest-Access
You can chat with the clients and vendors and other third parties by inviting them to the chat room. This excellent software provides you the access and complete control of the chat room. It is up to you what you want to share with them or want them to see.
Easy File Sharing
You can quickly share important files with your team. The sharing process is straightforward, and it's just taken a few clicks. You can share the file directly from the desktop, email, or any folder on your computer. This chat service platform will represent the preview of the file shared with the team.
Chat Rooms
HipChat enables the user to create multiple chat rooms for projects, clients, teams, or anything they want. You can archive the chat room when your conversation is finished.
Customizable
You can customize the way you want to receive notifications if you miss any message.
Searchable
You don't have to worry if you are involving in various chat rooms and want to search for a particular chat room. HipChat helps you find any chat room by entering the keywords of texts, links, or files discussed in that particular chat room.
Conversations are never lost
This fantastic tool synchronizes across desktops and other devices. You will not need to worry even if you change or switch your device because your conversations remain safe and never lost.
How to install HipChat on your PC?
HipChat can be installed and used easily on your Windows 7, 8, 10 operating systems. You will need to follow the guidelines described below.
Step 1: Open your browser and search "Download HipChat for Windows" in the search box. You will get a list of websites on your search result page. Alternatively, you can directly download this software from the developer's official website.
Step 2: You can choose any trusted websites from the search result page to download the setup or .exe file on your system.
Step 3: Once the downloading is completed, you can now start installing the software to run it on your PC.
Step 4: During installation, follow the guidelines and instructions very carefully.
Step 5: Once done, you can now use this fantastic chat service application on your device.
It is an instant messaging category software but unfortunately, this application has been discontinued.
You might also like