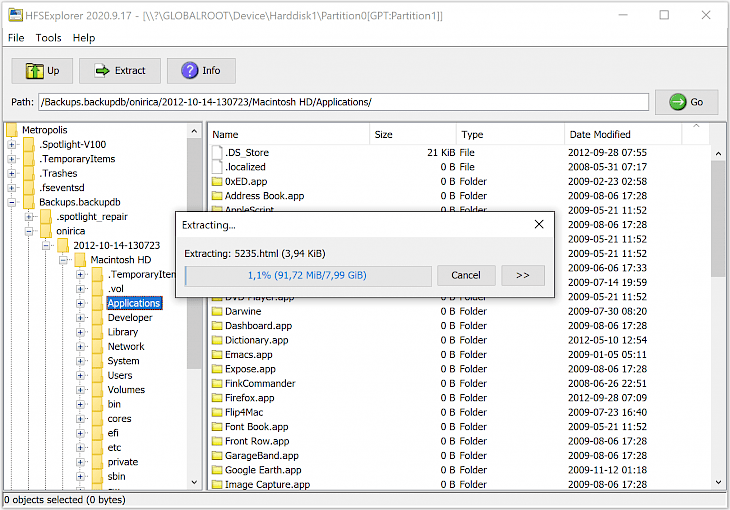 Download HFSExplorer
Do you want software that can seamlessly read Mac-formatted hard disks? Are you in need of an HFS file reader? HFSExplorer is the one you need to mitigate all your needs.
Developed by Eric Larsson, HFSExplorer is an application that can read hard drives and disc images that are Mac-formatted. It can read HFS (Mac OS Standard), HFS+ (Mac OS Extended), and HFSXX file systems (Mac OS Extended with case sensitive file names). HFSExplorer allows you to search your Mac volumes with a graphical file system viewer, extract (copy-to-hard disc) files, display detailed volume information, and produce volume disc images.
Most .dmg / .sparsebundle disc images can also be accessed by HFSExplorer, including zlib / bzip2 compressed images and AES-128 / AES-256 encrypted images. Master Boot Record, GUID Partition Table, and Apple Partition Map partition schemes are natively supported.
Features of HFSExplorer
HFSExplorer is the best fit for you if you belong to any of these categories:
Intel Mac users running Windows with Boot Camp in the requirement to access files on their Mac OS X hard drive.

iPod Owners whose iPods have been formatted with HFS+ and want to access their content from Windows PC or someplace else.

PearPC or similar Mac emulation/virtualization device users who wish to access their virtual hard drives' content (will only work if the disk image is stored in raw format, as in PearPC).

People who need to access the contents of .dmg / .sparsebundle HFS+-formatted files.
The salient features of HFSExplorer include the ones listed below.
An amalgamation of Languages Provides Flexibility
HFSExplorer is written mainly in Java 5, with some Windows-specific sections written in C, optionally using some Java 6 / 7 features to get raw access to block devices and to build a functional launcher program.
File Systems Browser
In most cases, Linux and OS X users do not need HFSExplorer to browse computer file systems, as native file system drivers are available on those systems, but it seems to work fine if you need them. Users of Linux might find a way to open .dmg/.sparsebundle files.
Download and Install HFSExplorer for Windows PC
Download HFSExplorer for Windows PC
You can download the latest version of HFSExplorer for your Windows PC easily from the Catacombae website or any other trustworthy website on the internet.
Install HFSExplorer for Windows PC
To install HFSEXplorer on your Windows PC,
Make sure you have version 5.0 or greater of Sun's Java SE Runtime Environment (OpenJDK works fine).

If you're going to view physical discs, make sure you have admin or similar privileges.

You need to download a convenient installer for Windows users, which will do it all for you.

In its start menu folder, the installer will place two shortcuts to HFSExplorer.

The first one, 'HFSExplorer', opens the application only. You would be able to access blocked devices if you are an administrator running Windows XP or Windows Vista with User Account Control disabled.

'Run HFSExplorer in Administrator' mode. This is achieved with the User Account Control dialogue in Windows Vista, and a similar but not fancy dialogue is displayed in Windows XP to make authentication as an administrator possible.

You can always start HFSExplorer in 'Administrator mode' if you want to access a partition on your computer's disc and you are running Windows Vista.
That's all you need to do to get HFSExplorer up and running on your Windows PC. Watch HFSExplorer work like a charm on your PC as you read and edit Mac-formatted hard disks and hard disk images.
You might also like