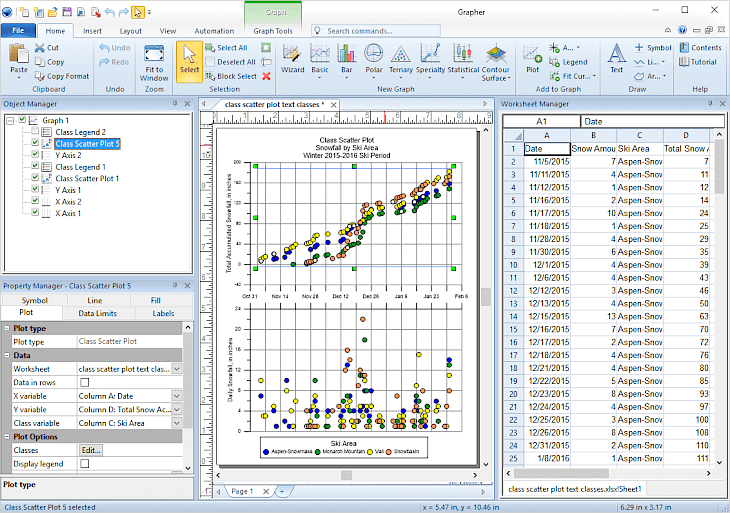 Download Grapher
Grapher as the name refers is a high-quality graphing tool that helps the users to get the most of their data and represent it more effectively and pleasantly. On this application, you will find more than 70 different 2D and 3D graphing options to visualize your information and data.
This application provides a wide range of tools and statistical features that you can use to identify the trends, evaluate or find new insights and locate unlimited opportunities. Grapher is a reliable way to present a holistic view of your data. Visualization is the best method to communicate your complex ideas in an orderly method to the audience so that they can easily understand them. The software offers you an extensive selection of graph types with multiple customization options that helps you to better explain your data and thoughts.
The software is used and trusted by thousands of engineers, business professionals, and scientists across the globe. These professionals trusted Grapher to represent their data. While working on this platform you can control every minute aspect and even plot down the smallest detail that helps you to convey the complex data or ideas in an easy-to-understand manner.
Grapher motivates and enables you to make the informed decisions by discovering the trends that may hide in your data by using the integrated statistical tools of the application. You can experiment with various things such as adding custom or pre-defined fit curves or compute the statistics on raw data so that it would be convenient to get a thorough understanding of the trends.
You can also use this amazing application to visualize and analyze the data from multiple sources. Grapher can read various file formats that help the users to take the reference from the other informational sources and used the content from there in their own projects. The file formats read by this application include DBF, ACCDB, and XLSX. This platform also supports some very popular formats and helps you to manage your data in an organized manner.
You can use this application to share your visual data presentation or charts with your team, shareholders, clients, and colleagues in PNG or SVG formats. To make your presentation more effective you can also insert diagrams from various other platforms like MS Word and PowerPoint with a simple copy and paste.
How to install Grapher on your PC?
Grapher is a great application for those who are willing to present the data precisely and effectively. To install this application on your Windows operating system, follow the instructions and guidelines described below.
Step 1: It is always preferred to install this software from the developer's official website.
Step 2: Alternatively, open your browser and search "Download Grapher for Windows" in the search box.
Step 3: Now, you will get a list of websites on your search result page. You can select any trusted website like filehorse.com to download the setup file of this software.
Step 4: Once you have downloaded the setup file, follow the step-by-step guidelines and instructions to start the installation process and run this software on your system.
Step 5: After following all the steps, click on finish, and now you can use this fantastic software on your Windows operating system
You might also like