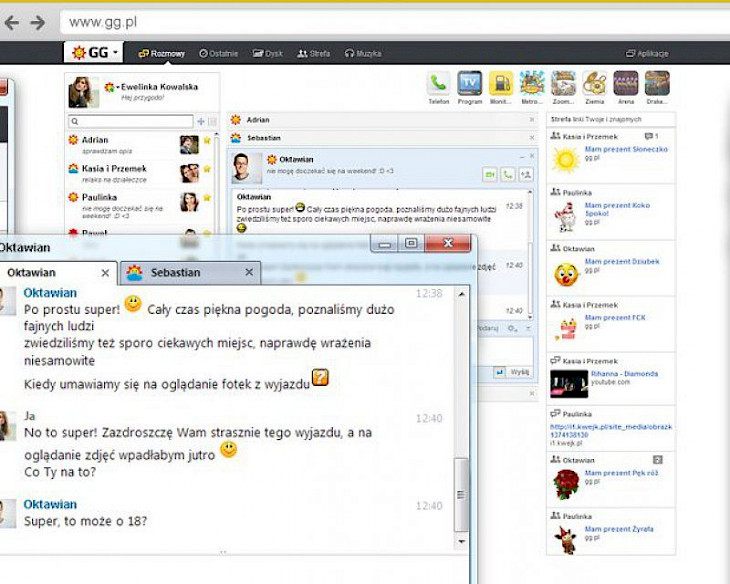 Download GG (Gadu-Gadu)
Are you a fan of instant messengers? One of the most common instant messengers in Poland is GG (Gadu-Gadu). This chat application was much improved over the years since it appeared on the market, offering users not only the ability to chat with their online friends without restrictions, but also to customize their chat experience and access several additional features such as built-in online radio, email client, online storage drive and even load unique applications such as multimedia music streaming, social networking sites like Twitter, and also popular games like Farmville.
Developed by England.pl Sp. z o.o., the GG app has continued to grow and draw more engaged users since it earned the most recent visual update. It frequently keeps in touch with over 6 million Polish-speaking users today, although it had over 11 million active users at the height of its popularity.
To download and test the new version of this app, Polish-speaking users and those who want to come into touch with millions of like-minded Polish people are welcome. GG (Gadu-Gadu) can be mounted on any current version of Windows, XP and newer, and is free to use.
Features of GG (Gadu-Gadu)
While GG is a chat app, its installation package has grown to a fantastic size of over 50 MB! It comes with such a wide range of tools and features. It is important to remember that the user interface of Gadu-Gadu has complete support for the English language and that this software can also be enjoyed on modern mobile platforms without many of its PC-specific features.
The remarkable features of Gadu-Gadu have been compiled below.
Contact List Tab
The app's main window is its Contact List tab, which is filled by all of your contacts. With pinned users, starred users, favourite users, and renamable groups, all contacts can be grouped in the way you want, such as Work, School, etc. You can also get unique alerts there for search results, invites, developers of groups, and more.
Primary Tabs
The other vital tabs on offer by GG are History & Alerts, Email client - you can not import your Gmail, Hotmail, or other standard email credentials with completely featured controls for managing your specific GG email account, GG Disk - 3 GB of online space for hosting your files that can be seamlessly shared in chat or email correspondence, and Radio Disk - access to a wide array of public internet radio stations.
Private and Group Chats
In groups or one-on-one environments, chats can be made. Chat users can also join into sponsored games together as a group, share files, links, or videos during the chat. The same chat window can be used for sending and receiving SMS messages, in addition to internet chat. The installation of supported third-party applications is also supported by GG, which can be handled via the 'Application Folder' section of the app.
Download & Install GG (Gadu-Gadu) for Windows PC
You can download the latest version 12.4.94 of GG (Gadu-Gadu) from this page for free. After downloading the 50 MB file, run it to start the installer and complete the installation process.
When installed, a splash screen will greet you, asking you to either build a new user account or enter your old credentials. Once you do the needful, your profile will be set, and you will be able to seamlessly send out messages in groups or personally and enjoy socializing and playing games with friends and family on GG. Enjoy!
You might also like