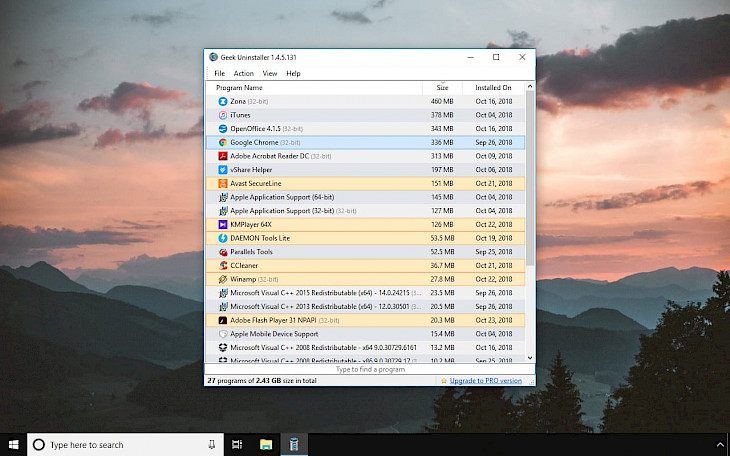 Download Geek Uninstaller
Geek Uninstaller is a simple tool to effectively remove from Windows installed programs, games, drivers, and Windows Store Apps. Moreover, Geek Uninstaller scans your system for files and registry entries left behind by the built-in uninstaller.
Geek Uninstaller displays a list of all installed components in your system. It is packed with a very useful search function and allows you to sort items according to categories like program name, size, and date of installation.
In addition, the uninstall program displays the sum of all the installed programs and the amount of space used by them on the hard disk. You can also export the list of software installed on the system to HTML format. You can also Uninstall Windows Store apps on Windows 8/8.1/10 using Geek Uninstaller.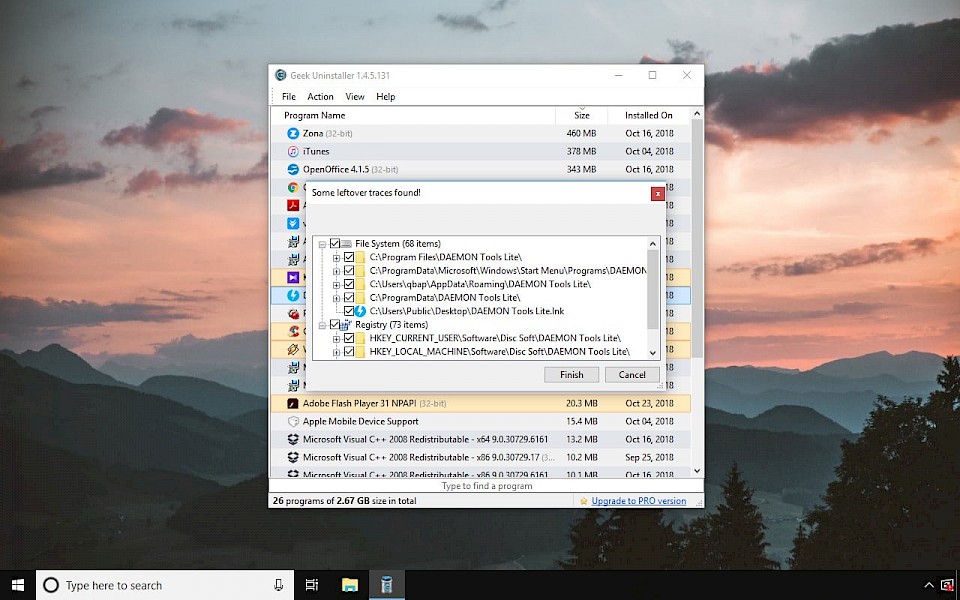 Performs deep and fast scanning and removes all leftovers. GeekUninstaller offers also the option to remove the software from the list without actually uninstalling the position from the system.
Geek Uninstaller can search and display the system registry entries associated with the indicated item, open the folder where the application is installed and search for information concerning selected program on the Internet. There is also a list of recently installed and modified programs.
Use Force Removal for stubborn and broken programs. Geek Uninstaller allows you to run the default method to uninstall the applications, as well as use forced removal option of specified items. Standard removal program leaves tons of leftovers on your PC.
Geek Uninstaller performs deep and fast scanning afterward and removes all leftovers. You can also uninstall Windows Store apps. Use View menu or Ctrl+Tab to switch between desktop and store apps.
This is my favorite tool to uninstall software on Windows. It offers basic features but, in my opinion, the option it offers are good enough for most users. Geek Uninstaller works extremely fast, and you can run default uninstaller that comes with an app. After the uninstallation will complete, Geek Uninstaller will run it's algorithms to find files, folders, and registry leftovers.
You can then decide what to delete. GeekUninstaller can also help you to remove Windows Store Apps bundled with systems like Paint 3D, Skype, Maps, People, Calculator, Camera, Microsoft Store, etc. GeekUninstaller download contains a portable version that doesn't require installation. It works with Windows 32- and 64-bit.
Clean Removal, Force Removal
Standard removal program leaves tons of leftovers in the system. GeekUninstaller performs deep and fast scanning to delete all leftovers. You can use the Uninstall option or Force Removal. Start with the Uninstall option and GeekUninstaller will use the built-in uninstaller and next it will search for leftovers on disk and registry.
Uninstall Windows Store Apps
To uninstall Windows Store Apps from Windows 8, Windows 8.1, or Windows 10 navigate to View menu in GeekUninstaller and select Windows Store Apps. You can switch between store apps, and desktop using keyboard shortcut Ctrl+Tab.
How to remove programs with Geek Uninstaller

Step 1. Select a program to uninstall by right mouse click on the name, and click Uninstall.
Step 2. Proceed with procedures displayed on the screen.
Step 3. Review detected file and registry items leftovers and click Finish.
You might also like