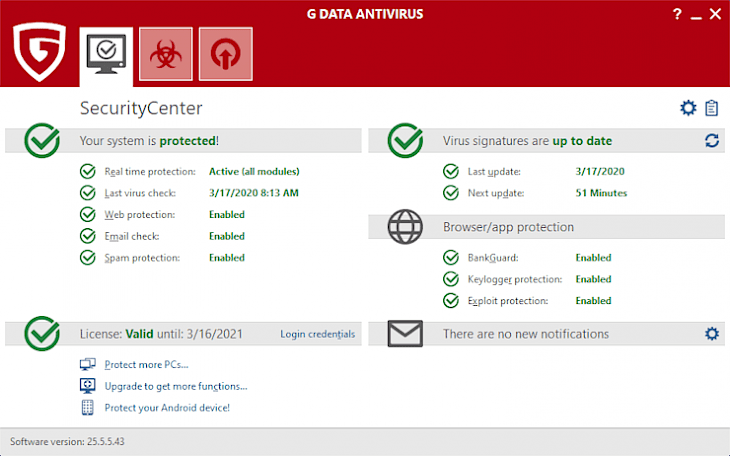 Download G DATA AntiVirus
With excessive use of the internet, online threats are increasing at a rapid rate. These threats can affect your system or devices in the form of malware, viruses, and other third-party sites. To avoid this situation antivirus software is developed and launched. G DATA Antivirus is a reliable antivirus software with dual-scan technology and proactive detection that easily and actively locate and identify harmful issues.
This antivirus software provides high-level security that is comprised of integrated scan engines and cloud-based analysis that helps the users to detect the suspicious file easily. The interface of this application is precise and practical at the same time. It offers the necessary and required tools and notifies the users about the current CPU load generated by the software itself and overall. G DATA Antivirus is an ideal software to analyze and detect every activity of the computer so that it would be convenient to track the unwanted issue or viruses including spyware, adware, trojans, worms, rootkit, and many other phishing scams that may try to steal your identity, data, and also damage your device or system.
No matter if you are a beginner or experienced, this effective antivirus software meets the expectations of both. G DATA Antivirus has an idle scan feature that runs automatically when the system enters an inactive state. This will scan your system actively without wasting time.
FEATURES
Orderly administration
G DATA Antivirus has an intuitive administrator that provides an easier and quicker way for the IT administrator to deploy the software to clients and also configure and monitor the entire network with an active and catchy eye. This makes it more convenient to manage, operate, and apply the group policies without dealing with each client on an individual basis.
Easy deployment
The unified central dashboard of this antivirus software helps to deployed the clients across the network, no matter how complex the network is. The active connection directory guides and permits you to apply the existing rules and policy effortlessly, even your network is highly heterogeneous it works well for you.
Case studies
G DATA Antivirus is reliable software used by many companies in areas including training, health care, logistics, and e-commerce. You can go through the case studies to evaluate the benefits that these companies get by using this application in their everyday work.
How to install G DATA Antivirus on your Windows Operating system?
G DATA Antivirus is reliable and powerful antivirus software that protects your data and system as well. if you are looking for an antivirus that makes your working secure and effective and keeps you safe from online and offline threats then this is the best choice for you. To install this software on your system, follow the instructions and guidelines described below.
Step 1: It is always preferred to install this software from the developer's official website.
Step 2: Alternatively, open your browser and search "Download G DATA Antivirus for Windows" in the search box.
Step 3: Now, you will get a list of websites on your search result page. You can select any trusted website like filehorse.com to download the setup file of this software.
Step 4: Once you have downloaded the setup file, follow the step-by-step guidelines and instructions to start the installation process and run this software on your system.
Step 5: After following all the steps, click on finish, and now you can use this fantastic software on your Windows operating system
G DATA Antivirus offers a 30-day trial version to the users.
You might also like