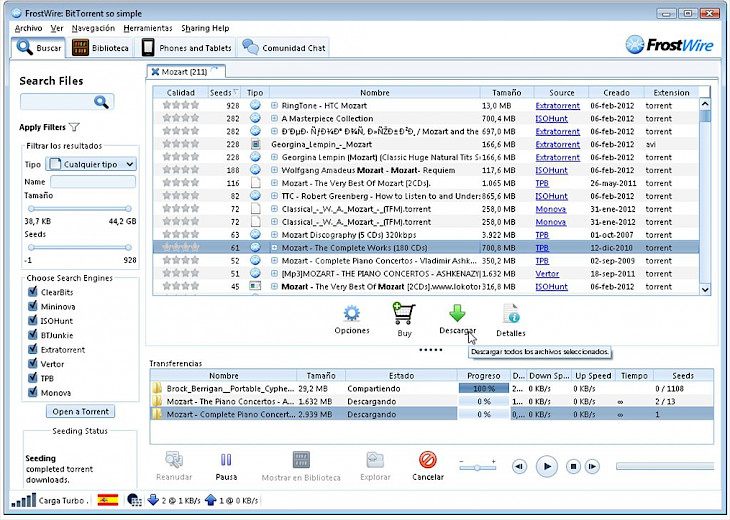 Download FrostWire
If you love music and are willing to download the latest and their favorite music tracks on your device. In that case, there is a wide range of software available in the market, that provides excellent features and tools to enhance your music experience and enables you to organize your music library.
FrostWire is a great application available for the smartphone and PC version that allows you to download all sorts of media data including songs, programs, images, videos, and more. It is a fully-featured Bit-Torrent Client and internet downloader which is available with an integrated media player and media library to provide a convenient and enormous user experience.
Besides downloading and installing the media files, this fantastic platform enables users to share files on various social media platforms. The user interface is unified and easy to use. You will get all the features on one platform from downloading to an inbuilt search of multiple torrent trackers and websites. This fantastic platform allows the users to chat with other FrostWire customers in the chat window available on this platform.
FEATURES
In-app search
You will not need to access various sites while downloading. Just open the software, type the keywords, and here you go. All the relevant options will appear on your screen. This fantastic platform is connected with multiple torrent search engines and websites including YouTube that enable the user to find all the media files in one place.
Fast and easy downloads
The downloading procedure is not complicated. You can download any file with just one click. FrostWire allows the users to preview the files before downloading so that they can conveniently download the files of their choice effortlessly
Media player and library
This is an excellent platform that helps users easily access all their favorite media miles and play the same by using the inbuilt media player available in the software. The interface can be operated by anyone even if you are a beginner or a non-technical individual. You can play all your media and create your playlist in one reliable place.
Share your files
This fantastic platform enables users to share their media files with their friends and on other platforms in just a few clicks. You can create a torrent to share with anyone in the entire world.
Others
Open any .torrent files or paste magnet link in transfers to download any file you want.

Auto-pause downloads with VPN drop.

Inbuilt media browser (rename or delete your files within the app)

Send big data

Customizable with skins

Sound cloud search and download
How to install FrostWire in the Windows operating system?
FrostFire is available in both android and PC versions. The installation procedure is quite simple and you easily run this software on your system by following the guidelines and instructions described below.
Step 1: It is always preferred to install this software from the developer's official website. To visit the official site, click https://www.frostwire.com/.
Step 2: Alternatively, open your browser and search "Download FrostWire for Windows" in the search box.
Step 3: Now, you will get a list of websites on your search result page. You can select any trusted website to start downloading the setup or .exe file of this software.
Step 4: Once you have downloaded the setup file, follow the step-by-step guidelines and instructions to start the installation process and run this software on your system.
Step 5: After following all the steps, click on finish, and now you can use this fantastic software on your Windows operating system.
You might also like