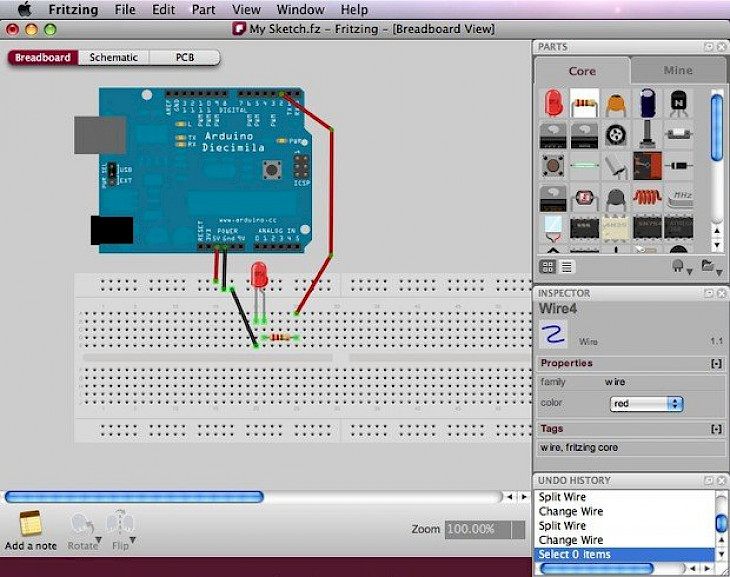 Download Fritzing
Are you an electronics engineer working on a brand new project involving circuit designing? Or are you looking for inspiration to create a new electronic circuit model from the internet instead? Either way, you could utilize a computer-aided design (CAD) software that allows you to virtually design and test out electronic circuits without having to undergo the hassle of planning them on paper, then creating them for trials and only then getting to test them, and in case of a failure, start from scratch all over again.
Fritzing, developed by Friends of Fritzing foundation, is currently available in the latest version 0.9.3b (32-bit) and allows you to automate designing electrical circuits, create circuit board diagrams, and mount prototypes using a virtual test board. The Fritzing software is a part of the Fritzing open-source hardware initiative, which aims to make electronics accessible to anyone as a creative tool. Fritzing is compatible with both Windows and macOS.
Fritzing also offers a community website and other services for building and fostering an ecosystem of circuit designers. Members of this creative ecosystem can document prototypes and share them, teach electronics to newbies, and draft and manufacture professional PCBs.
This article will educate you more about the features of Fritzing software and how to download and install it on your Windows PC.
Features of Fritzing
There are many options and features available in Fritzing. It allows you to build a virtual test board, use an automatic or manual mode auto-router, and construct a diagram of the circuit. When designing, you can add notes that can be shared with other users. It is possible to use multiple components too. There is a project gallery online that can be accessed to see the work.
This is a great tool for both professional and educational purposes. Anyone in electronics will find this tool to be useful including but not limited to\ engineers, electronics enthusiasts, teachers, and so on.
The features of Fritzing are further elaborated on individually below.
Up To Date Parts Library
The parts library of fritzing, stored online at GitHub, is checked for updates automatically on each launch. This means that the moment they are created, you get new parts (or fixes) at your disposal without having to wait for the next release of Fritzing to get new components.
Auto-Routing
You can easily route the wires in your PCB design automatically or manually using Fritzing's auto-router, that operates in both manual and automatic modes.
Simple Diagram Creation
Fritzing allows you to create a diagrammatic representation of your proposed circuit using a drawing board seamlessly and quickly.
Project Sharing & Collaboration
Fritzing allows you to collaborate on a project with friends or team members by simply sharing the projects with them, adding notes wherever required, and using multiple components.
Retina Display Support
Fritzing displays correctly on all platforms with high-DPI (aka Retina) displays. According to the higher resolution of the screen, it scales nicely so that you don't have to squint your eyes while viewing it on them anymore.
Increased Visibility & Handling of Custom Parts
Custom / self-made parts and bins are now conveniently located in your ~/Documents/Fritzing folder and not on your hard drive in a hidden location, which makes them easy to access and edit using third-party tools.
Downloading & Installing Fritzing for Windows
Downloading Fritzing for Windows
Download the latest version of Fritzing (0.9.3b) for Windows from their official website by following simple on-screen instructions after landing on their homepage.
Installing Fritzing for Windows
After the executable file is downloaded, click on it to run the Fritzing installation wizard.
Once the installation wizard starts, follow the instructions on the screen.

Agree to the User Agreement to proceed further with the installation.

Once installation starts, wait for the installation procedure to end.
On completion of the installation process, Fritzing will run automatically on your Windows PC. Enjoy creating new fantastic circuits and sharing them with your team for collaborating with you and making them even better!
---
You might also like