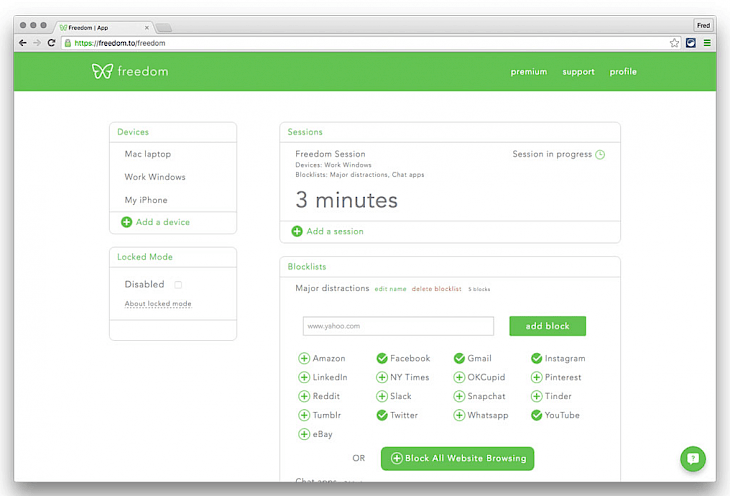 Download Freedom
About Freedom:
Have you ever been distracted by various media while doing some important work? Have you ever begun with something productive but then got carried away by social media apps and unwanted websites? If your answer is yes, freedom has your back!
Freedom is an application which blocks all your social media apps and websites which are likely to carry you away while you are doing some important work and don't want to get distracted. As a result, you will end up being more productive and will save a lot of time. From research conducted, it was found that, while working if you check a mail or a social media, your mind requires about 23 minutes to get your focus back to work ultimately. It was also found that people who tend to do multitasking have comparatively 40% less output as compared to people who focus entirely only on work. This makes a drastic change if considered for an extended period of time.
The application not only helps you block other applications and websites, but it also allows you to schedule your work period, according to which you won't be disturbed during your work. The application supports all your devices such as Android, Windows, macOS and iOS, allowing you to make the most out of your subscription by focusing only on work on your devices. You can also enable a locked mode in the application which will help you block everything for a more extended period of time, especially when you have a lot of work pending and you don't wish to waste your time.
Key Features & Highlights:
Block websites: Whether it's Facebook, YouTube or any other media, simply block an unlimited number of websites so that you can focus only on what's important.

Block apps: Wasting a lot of time by being distracted by apps? Block it, no matter if it's a mail or a game.

Sync across devices: Include as many devices as you wish to, ranging from iOS, Android, macOS and Windows.

Blocklists: Create a list of all applications that you wish to block and keep a proper track of them.

Advanced Scheduling: The application allows you to schedule your work time as per your comfort properly. It will automatically block all distractions when its time for you to get productive.
Download and Install Freedom:
Download->
Click on the download button, and your download should automatically begin.
Installation->
After your download is complete, head towards your downloads folder on your PC and run the setup file.

The installation window will open. Go through the installation and make changes as per your preferences.

Finally, click on "Install" and your installation will begin.

After the installation is complete, click on "Finish" and search for the application in your windows search and you are good to go.
If you liked the software, you're most welcomed to submit your responses below. Thanks for downloading.
You might also like