Free Music & Video Downloader download for Windows.
Category: Download managers
Version: 2.21
Last update: Jan 27, 2019
OS: Windows
License: freeware
What is Free Music & Video Downloader?
Free Music & Video Downloader is a powerful music and video search engine with download feature. Use the software to download, play, and convert files to MP3 from popular services like YouTube and Vimeo (support for over 30 music/video websites).
You can download files from vkontakte.ru, youtube.com, vimeo.com, SoundCloud.com, mixcloud.com, BandCamp.com, kinox.to, Movie4k.io, rutube.ru, Hypem.com, ardmediathek.de, zdf.de, arte.tv, phoenix.de, Xiami.com, Music.Baidu.com, Hulkshare.com, QQMusic, XMusic.me, myfreemp3.eu, iplayer.fm, piratebay.to, mail.ru, myzuka.fm, WatchBox.de, zaycev.net, pakartot.lt, tutaudio.su, one.ard.de, mp3pn.biz, WholeCloud.net, Pesnik.su, DarkMP3.ru, MP3Red.me, and MP3Music.ru.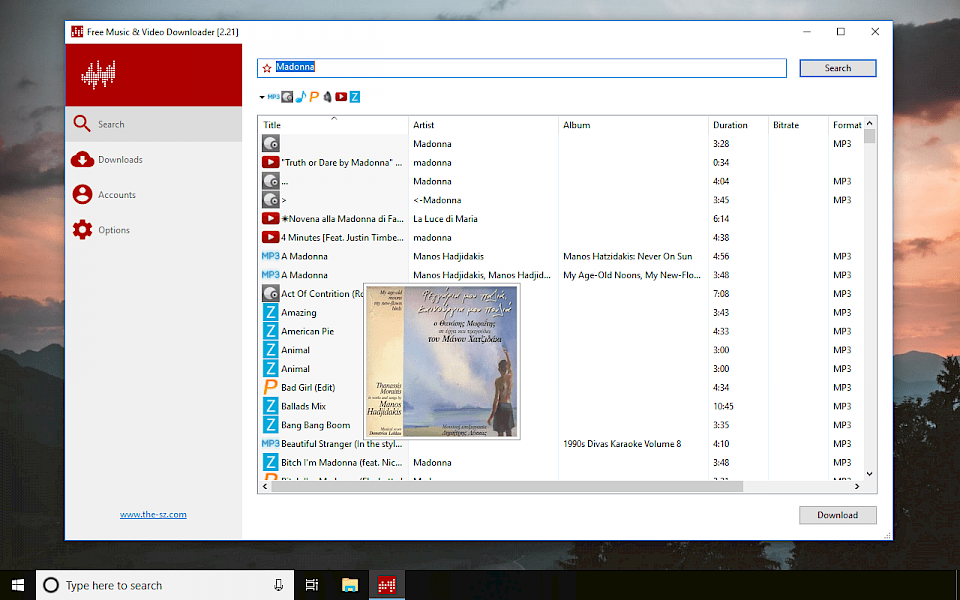 With Free Music & Video Downloader software you can also search for any movie name. Simply paste URL address of your tv series into the search box. All episodes will be downloaded. The app supports links from streamcloud.eu, Vidzi.Tv, kinox.to, Rapidvideo.com, TheVideo.me, openload.co or WholeCloud.net.
There is also an option to filter search results. You can access the filter feature by pressing 'F3' or 'clicking Ctrl'+'F' on your keyboard. Free Music & Video Downloader can also convert videos to MP3 format, and play music files from download tab. The software is easy to use.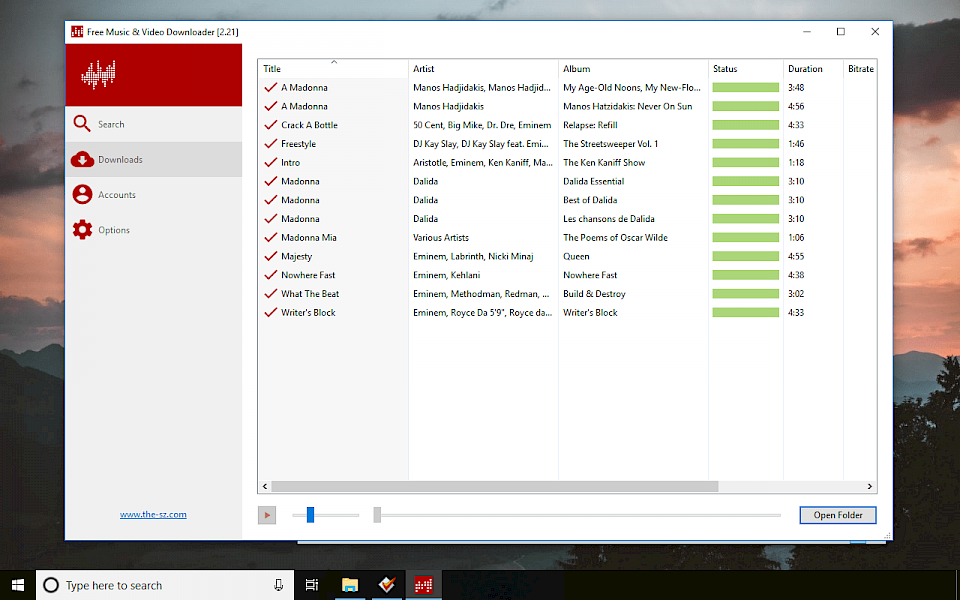 Moreover, the app can automatically download cover arts, select default download video quality, simultaneous downloads, download size limits and more. All options are available from Free Music & Video Downloader settings tab.