Free Alarm Clock download for Windows.
Category: Other accessories
Version: 4.0.1
Last update: Dec 30, 2017
OS: Windows
License: freeware
What is Free Alarm Clock?
Free Alarm Clock is an application designed to act as an alarm clock. The program can be successfully used as a reminder of upcoming events or an alarm clock.
Using Free Alarm Clock you have the ability to define an unlimited number of alarms, use default sound playback or select any MP3 file, display a variety of information associated with cyclical alarms, and create alarms functioning only on selected days of the week. Free Alarm Clock will automatically turn up the volume if you have it on mute by accident. When the alarm is played the program can turn up the volume of Windows forcefully. Additionally, you can set a comfortable sound volume.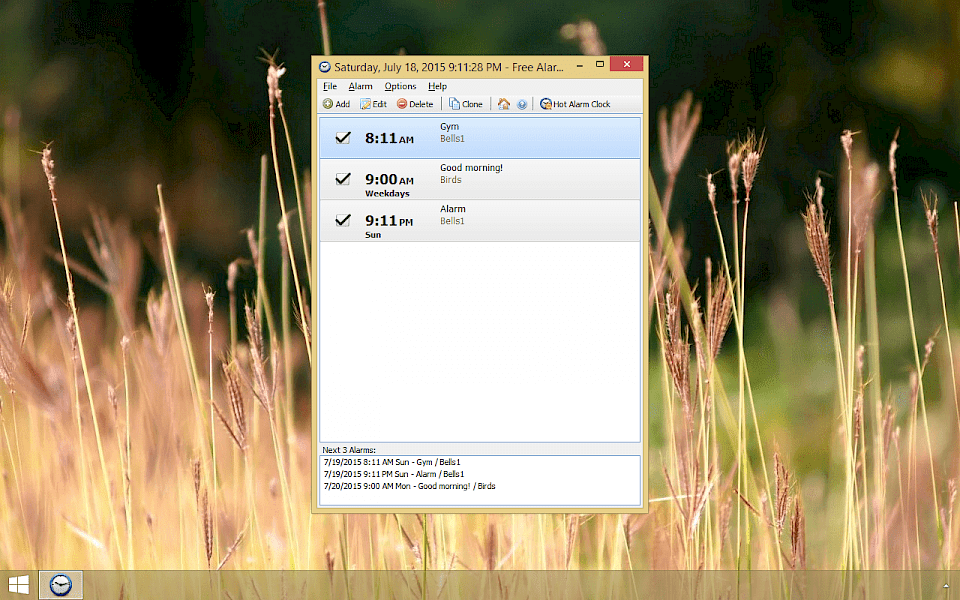 Moreover, Free Alarm Clock offers functions responsible for saving electricity. The application can turn off the monitor, and also wake the computer from sleep mode to play back user-defined alarm. Option wake-up works only with sleep mode compatible PCs. Label different alarms to indicate activities you must do at the sound of the alarm. After you set the time and sound for each alarm, you can use a text field to write a note to yourself as a reminder about the alarm's purpose.