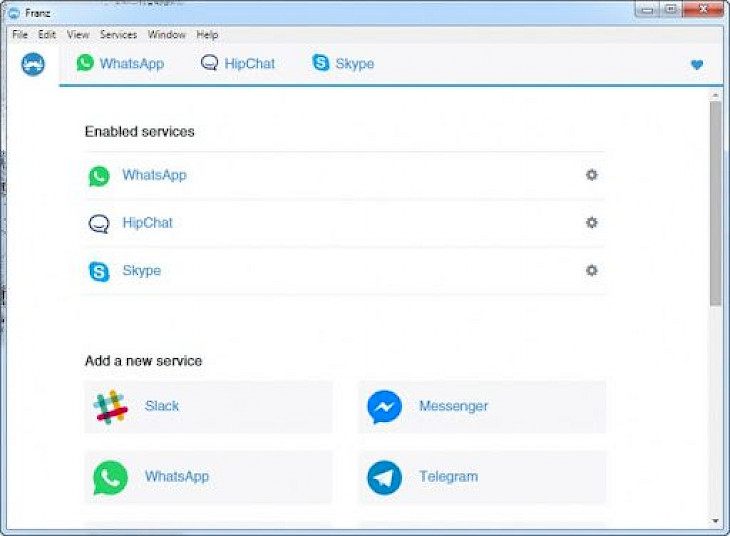 Download Franz
The 21st century has changed how we communicate with one another. It's more like we have several mediums that make it an exciting affair and ensures that we stay connected no matter what. Smartphones are another tool that has made lives easier where we can seamlessly do things on the go and have results quickly displayed at the tip of our fingertips. It's all thanks to the application that runs on smartphones that makes them faster.
But when you transfer such a communicating application for a smartphone to a computer, there aren't many that have the desktop version. For this, you will need dedicated software to ensure that you get the best experience possible. But what if there was one application that could help you put all the communicating applications under one roof that would help in a long way to have communication done effortlessly? Well, there is, and we have discussed it in detail below. Check it out.
What is Franz?
As weird as the name might sound, Franz is a wholesome solution to having multiple communication software under one roof. It means to say that users can seamlessly switch between different communicating platforms such as WhatsApp, Skype, hangouts, slack, and more through tabs and connect them in the software to get those features in one homepage. It's relatively easy to use and free of cost as well. Well, the free version is free for limited features. However, a monthly subscription will unlock its fullest potential in what it has to offer.
Key Features of the Software
Whole communication software
The application is built quite nicely, where you can add up multiple messaging and communicating platforms that make life easier and better. It's more like getting all your communication needs in one place without shifting various tabs on the home screen.
The user interface is clean and straightforward. Once you set the software up, you get a list of messaging services that the platform support. Simple click on anyone and login to the platform. Once you are done, you will get a tab where all your communication services will be present. Thus, it's a simple and straightforward application that doesn't require much of a learning curve in knowing how to use it and get the best of it.
The entire platform is safe to use. The company itself can't see what you are doing on the software. Moreover, once you login into the communication service, the software has nothing to do with anything. Furthermore, it's just blocked out entirely.
Minimum System Requirements
OS – Windows 7 or higher

CPU – Pentium processor

RAM – 1GB or higher

Storage – 150 MB or higher
How to Download and Install it on a PC
Download the software installer
The software installer is broadly available on its official website or multiple third-party application hosting sites. Get the latest version of the software.
Install the software and enjoy seamless communication
Once downloaded, install the software and enjoy seamless communication services through the many services that the application supports and offers.
You might also like