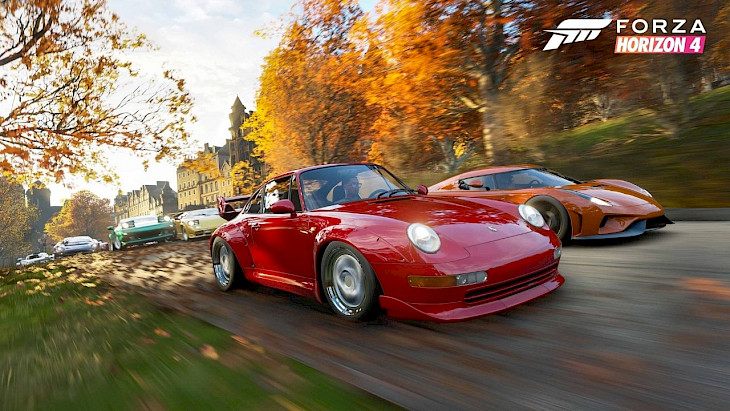 Download Forza Horizon 4
Are you interested in racing car games? If yes, then you should give a try this fantastic Forza Horizon 4 game. Microsoft Corporations develop this amazing racing game. Forza Horizon 4 is the best choice for car lovers. This game puts you in the driver's seat and gives you a choice to select your favorite car from over 450 different licensed car options.
This game offered you to explore the beautiful scenery and become a Horizon Superstar in historic Britain by competing against the other players in the same world. Forza Horizon is a perfect platform and an ever-growing community if you love everything with four wheels and a motor.
FEATURES
Dynamic Season
Forza Horizon game series fans will find Forza Horizon 4 something really excited and take things to the next level. With more cars to choose from, this gameplay is set in Great Britain and provides a dynamic experience to the users. While playing the game, you can unlock new events, routes, impacting driving conditions.
This fantastic game provides the ability to play in different seasonal conditions. It means that the players can have a driving experience in dry, wet, muddy, and snowy conditions in a shared world, affecting all players across the server.
Customize your routes
For the player, the ultimate goal is to become Horizon Superstar. This superb game has introduced a new route creator that allows the players to design and share their own custom race route anywhere in the open world and play the same at 60 frames per second on their PC.
Play alone or Team up
If you want to play alone or join multiplayer, you are free to choose your choice. Forza Horizon 4 will integrate some great features like Integrated Mixer Broadcasting and spectating feature for a tremendous user gaming experience.
Minimum System Requirements
Before installing this fantastic game on your PC, you should check the minimum system requirements to enhance your gaming experience.
Operating system: Windows 7, 8, 10

8 GB of RAM

Processor: Intel i3-4170 or later

Video card: NVidia 650TI or later

Dedicated Video RAM: 2 GB

Vertex Shader: 5.0

Pixel Shader: 5.0
How to Download Forza Horizon 4 on your PC?
You can have a tremendous car racing experience on your PC by downloading this game on your Windows 7, 8, 10 operating systems. Forza Horizon 4 is the best chapter or version of this series. This game will be offered you various challenges when you want to play offline. To install this game on your PC you can follow the steps described below.
Step 1: Start the download for this game by clicking on the download button.
Step 2: Once you have downloaded the setup file, you can now start the installation process on your system. Follow the step-by-step guidelines and instructions very carefully.
Step 3: After following all the steps, click on finish. You can now enjoy this amazing racing game on your PC.
You might also like