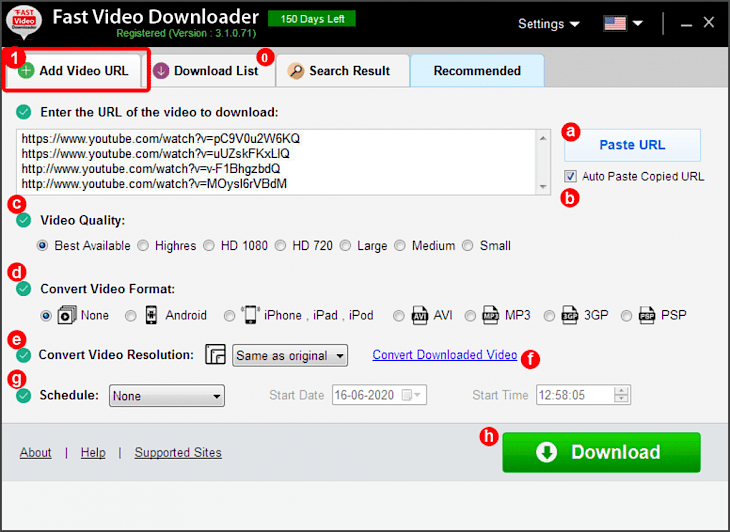 Download Fast Video Downloader
When you see a really good video on any social media network at one glance, you want to download it on your device or PC. Unfortunately, social media network like YouTube, Facebook and more does not allow you to download any video directly to your system.
Developed by FastPCTools, Fast Video Downloader is a fantastic software that enables users to download their favorite videos from any social platform. Schedule your download list and watch videos anytime from anywhere by using this widely used excellent software. This fantastic software offers multiple advanced features that provide easy download in high-quality in 1080p.
FEATURES
Download from any platform
This excellent software allows the user to access platforms like YouTube, Facebook, Dailymotion, Vimeo, Bing, and other video sites and download your favorite video directly on your computer or system.
Multiple downloads
You do not need to wait when one video will be downloaded to start downloading another one. Fast Video Downloader enables the user to download multiple videos simultaneously at the same time.
Download HD Video
Download and watch videos without compromising their quality. You will need to worry about the video quality, this fantastic platform allows the users to download high-resolution videos in HD (1080p) and 720p from any video streaming site.
Schedule your download
In case you are willing to download a video later, this excellent platform helps the user to schedule when the video will be downloaded.
Paste video URL
This video downloader is easy to use. Just copy the URL of the video you want to download and paste it into the platform. Within a few minutes, your video will be downloaded successfully.
Convert resolution
Fast Video downloader helps the user to change the resolution of the video without changing its format.
Fast speed
While watching the video on any streaming platform you have to make sure that you have a good internet connection. But using this video downloader, you can watch your favorite video offline anytime. The downloading speed is excellent. It takes a few minutes to download the video completely.
How to install a Fast Video downloader on the windows operating system?
Fast Video downloader provides a simple and easy-to-use interface compared to similar programs. The features and tools of this software are capable enough to deliver an immersive user experience to the users.
To install this excellent software on your windows operating system, you will need to follow the instructions described below.
Step 1: You can download Fast Video downloader directly by visiting its official website.
Step 2: Alternatively, open your browser and search "Download Fast Video Downloader for Windows" in the search box.
Step 3: You can choose any trusted websites like filehorse.com from the search result page to download this fantastic game.
Step 4: Once the downloading is completed, click the setup or .exe file twice to start the installation process.
Step 5: Follow the instructions and guidelines very carefully.
Step 6: When the installation process completes successfully. You can now use this amazing platform to download your favorite video from any video site.
Fast Video downloader is no doubt is an excellent platform that supports a wide range of formats including Mp3, AVI, PSP, and more but some major file types are still missing. you can download this software without paying a single penny but you will receive limited free version features.
You might also like