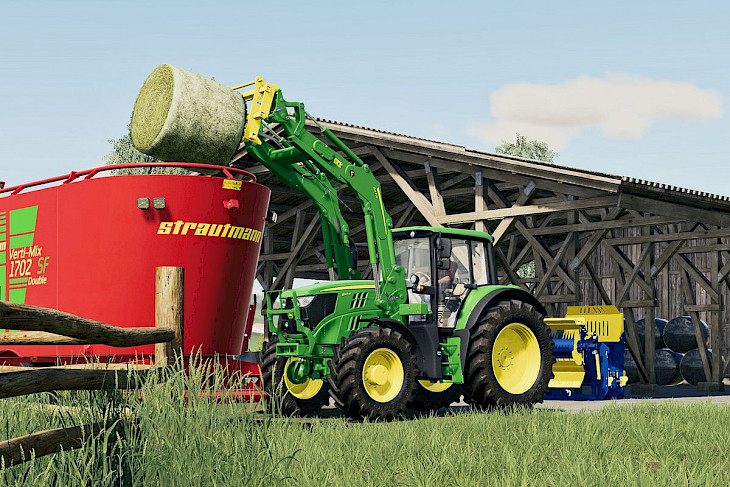 Download Farming Simulator 19
Are you a fan of farming simulation games? The famous farming simulation video game developed and released for home PCs by Giants Software at the end of 2018 is Farming Simulator 19.
After more than a decade of being one of the most popular simulation games of all kinds on the market, this latest version of the game has managed to make one of the biggest jumps and present fully updated graphical engines to the players, completely transforming the way the game feels with modern post-processing effects, dynamic physics, enhanced material rendering, and generally great in general.
Fortunately, these recent visual changes still allow users of older PCs and even laptops to experience the title of this large farming simulation. With the inclusion of all possible tasks that a modern farmer might do, the full simulation of day-to-day work on a farm is enhanced: managing their own farm, working on fields, cutting and selling wood, raising their livestock (cows, pigs, sheep, and chickens), gathering crops and even transporting them manually by trailers, trucks and freight trains.
Features of Farming Simulator 19
Besides the dramatic expansion of visual rendering capabilities, the most anticipated addons in the history of the franchise were also launched by Farming Simulator 19, John Deere. The world's largest agricultural machinery manufacturer will now help gamers become ever more immersed in simulating their perfect farm. In addition to John Deere, the game has also opened access to vehicles and tools from many other manufacturers such as Challenger, New Holland, Fendt, Massey Ferguson, and several others.
The other remarkable features of Farming Simulator 19 include the ones mentioned below.
Everything Related to Farming
The sponsored environments include Europe and America's spectacular settings and the brand-new form of animal-horses! Not only can gamers breed and raise them, but they can also ride them around your farm and experience the farmer's life on the screen like never before. In a dramatically expanded form, side-activities that were so common in the previous version of the game return here.
Online Friends to Play with
As with some previous titles, players are not only empowered to play solo but also with 15 additional online friends in attendance. Of course, with long-running and critical for this franchise, support for community-created mods, the gameplay and visual elements of the game can be improved.
The Most Enriching Farming Experience on PC
Farming Simulator 19 allows players from all over the world to witness the most in-depth and most detailed farming experience available today on the PC platform, without any doubt.
Download and Install Farming Simulator 19 for Windows PC
Farming Simulator 19 can be easily downloaded from the link given above. Once downloaded, install the game on your Windows PC by launching the setup.
You'll need to install Steam first to download and play this game. You then need to buy and update it on Steam. Since the game cannot be directly downloaded, we will provide you with a Steam installation by clicking the download button. Please visit its Steam page to find out more details about this game.
Once you have the Farming Simulator 19 game set up on your PC, you can enjoy playing it and bring out the virtual farmer in you!
You might also like