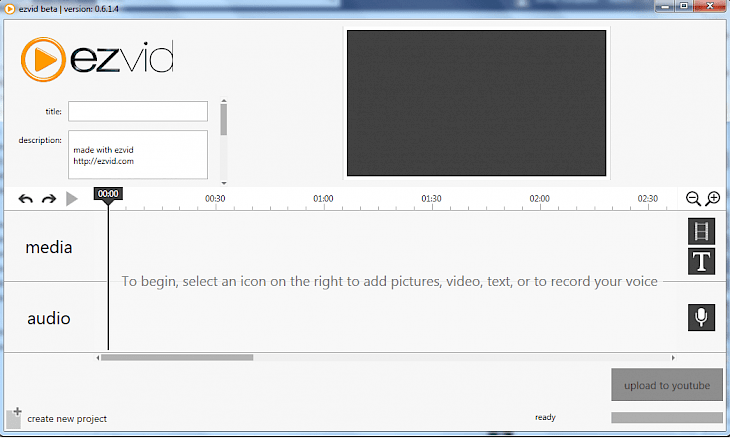 Download Ezvid
Are you looking for a free, easy, light video editor and screen recorder to start your latest YouTube project? Are you annoyed by several such products promising to offer free services on the internet but once downloaded they only let you complete part of the work for free before charging money? Forget about all these nuisances with Ezvid.
Developed by Ezvid Inc., due to the power of its cutting-edge effects and functionality, Ezvid 1.004 is exceptional. Ezvid is the world's best solution for creating videos that entertain, educate, and enchant your viewers with voice recording, facecam, voice synthesis, screen drawing, and speed control.
You can record your Ezvid Windows version screen with one click, and catch whatever appears on your computer screen: web sites, games, apps, paint programs, charts, the list goes on and on. Edit and then save your video for later, or upload it directly to YouTube: your choice is yours.
It has been downloaded more than three million times and used to make millions of YouTube videos since its release in early 2011. The app burst on the scene and quickly dominated the screen recorder and video editor of choice, especially popular with Minecraft players and other massively viral games. Stay tuned as the tool will soon release even more incredible features, including creative ideas, never seen on any computing platform before.
Features of Ezvid
Ezvid harnesses your computer's power to make unbelievably sharp and high-resolution movies of everything that appears in front of you. You can then edit these videos nonlinearly, make adjustments to pace, rearrange, add text, picture slides, and much more to create a video in minutes instead of hours.
The remarkable features of Ezvid find mention in the section below.
Screen Recording & Video Editing
Ezvid is the easiest screen recorder and screen capture device for Windows in the world. Just press the 'Screen Capture' button, and your screen will be captured instantly. You can then proceed with editing the video immediately in the in-app video editor.
Screen Drawing
The elegant and innovative screen drawing feature of the program allows you to draw directly on your screen; in combination with the ability of the tool to record a screen area, you can easily create excellent screencasts and document your online environment.
Ease of Use
The user interface is as simple as it can get. This contributes to the universality in the software's usage and also makes it super easy and quick to edit and perfect recorded videos for online publishing.
Text-to-Speech Narration
Ezvid makes your video an impressive machine story. Make a text slide, press the 'Synthesise Speech' button, and for your video, the software generates machine speech instantly.
Download & Install Ezvid for Windows PC
To download Ezvid 1.004 on your Windows PC, head on to the official Ezvid website and click on the 'Download' button at the bottom left of the page. The small download will take less than a second to finish. Run the setup file to start the Ezvid installer.
Once the installer starts running, agree to the Ezvid License Agreement and continue clicking 'Next' till the rest of the files are downloaded and installed subsequently. Upon completion of the installation, Ezvid launches automatically.
You can now easily record and edit your videos for making screencasts and educational content on YouTube or other video platforms and grow your influence on social media. Enjoy recording and editing!
You might also like