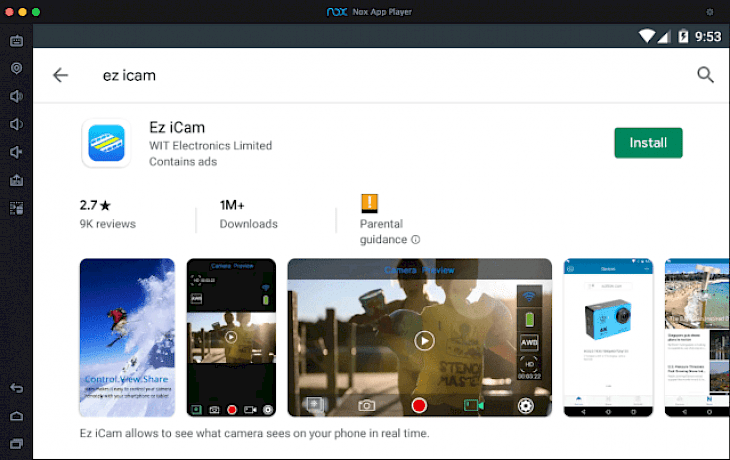 Download Ez iCam App on PC
These days security cameras have become technology advancement and installed for security reasons. Many apps are available in the market that enables you to remain updated and turn your smartphone screen into a monitoring screen. Ez iCam helps you to view everything on your smartphone that is recorded on your camera. This application is developed and launched by WIT electronics limited. Ez iCam is the best solution for those people who travel a lot due to their work and want to monitor their workplace or property in their absence. This app allows you to connect multiple cameras.
FEATURES
Live preview
Ez iCam cut the expense of heavy surveillance systems and provide a live preview of the security cameras on your smartphone screen or operating system. By using this application, you can monitor every corner of your house or office from different angles and also preview the previous live recordings.
Take Photos or Videos
This app enables you to use your phone as the remote control to your security camera. you can capture photos and videos and also download the same for future aspects by using this extremely beneficial application.
Editing
You can resize the image and videos that you have captured and save the same. Ez iCam has a white balance setting feature that improves the video quality and provides a clear picture of what the camera sees.
Browse and Delete Files
Users can freely browse or delete the files on the camera's microSD card. You can manage the files conveniently without interruption. If you want to remove unnecessary files then you can also format the microSD card.
HOW TO INSTALL?
Ez iCam is designed mainly for smartphones but you can use this on your PC. To install this application, you have to install the Android emulator first. Although there are many emulator software in the market, the best in business and most reliable are Blustacks and Nox App Player. You can use any of them for free and they are available on both Windows and Mac Operating System.
To install android emulator software on Windows 7, 8, 10, and Mac you can visit the official website of these emulators.
Download and install the emulator.
Once emulator software gets installed, run it on a PC.
Open the main screen of the emulator and select the Google PlayStore. To start using Play store services you have to log in to your Google/Gmail account.
Now search "Ez iCam "in the search box of the Play Store and select the app icon from the search result page.
Click on the install button and make sure that you have a good internet connection. After successfully installed the application, launch the app on your system and start using Ez iCam on your PC.
You might also like