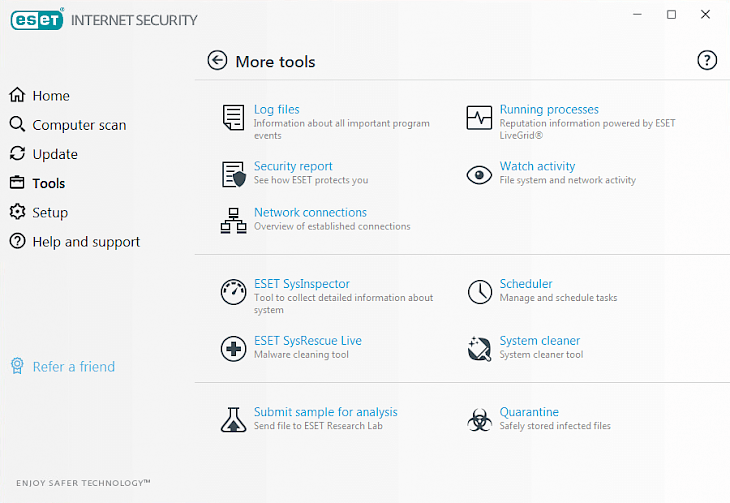 Download ESET Smart Security 9.0.381.0 (64-bit)
Those who spend most of their time may worry about online threats. ESET smart security 64-bit that provides all-in-one internet security to the users and allows them to explore the web content safely and securely. This antivirus software is developed by ESET LLC and protects you from identity theft, physical theft of your computer, and exposure to potentially offensive web content. the software has some amazing tools that locate your missing laptop and also help you to recover it in one or another way.
ESET smart security has an integrated social media scanner that works as a shield and protects your social media accounts such as Facebook and Twitter accounts. The software will keep you safe from network attacks by enabling the personal firewall and Anti-phishing. You can use the features like parental control and cybersecurity to ensure a safe browsing experience for your family members.
Online sites are the main source from where malware or viruses attack your device. There are various ad-tracker that may track your online activity and also steal your personal information. This antivirus application provides you the confidence to browse the internet securely and access all the web content without a second thought. The Anti-phishing feature avoids fake sites and keeps your device safe.
Losing your laptop or any other device is no doubt a great loss. But you may amaze to hear that ESET smart security also works as Anti-theft and will consequently track and locate your missing laptop.
Connecting to public wi-fi hotspots is not always a good idea because this wi-fi has enormous unknown viruses that may attack your system. ESET smart security will protect you from this situation. You will find a personal firewall integrated with this antivirus software that allows the users to connect freely with any public Wi-Fi but their data and personal identity will remain protected.
FEATURES
Antispyware

Antivirus

Anti-phishing

Anti-theft

Personal firewall

Antispam

Parental control

Social media scanner

Exploit blocker

Botnet protection

Vulnerability shield

Advance memory scanner
How to install ESET smart security on your windows operating system?
ESET smart security is a fantastic application used by millions of users to browse the internet effectively without any online threat. To install this software on your PC, follow the instruction and guidelines described below.
Step 1: It is always preferred to install this software from the developer's official website. To visit the site, click https://www.eset.com/in/.
Step 2: Alternatively, open your browser and search "Download ESET smart security 64-bit for Windows" in the search box.
Step 3: Now, you will get a list of websites on your search result page. You can select any trusted website like filehorse.com to download the setup file of this software.
Step 4: Once you have downloaded the setup file, follow the step-by-step guidelines and instructions to start the installation process and run this software on your system.
Step 5: After following all the steps, click on finish, and now you can use this fantastic software on your Windows operating system
ESET smart security offers 30 days trial version to the users.
You might also like