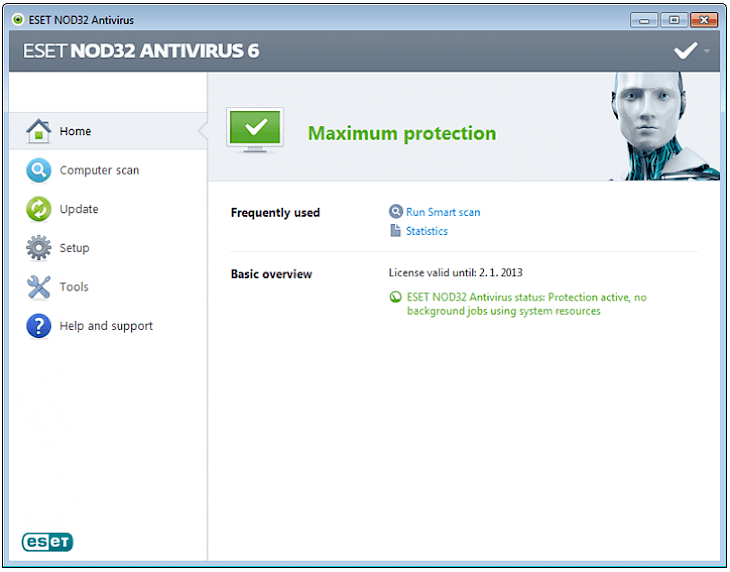 Download ESET NOD32 Antivirus (64-bit)
Are you looking to protect your PC from malware lurking around on the world wide web? Do you feel insecure about your financial data lying unprotected on your laptop while you perform multiple transactions regularly? Then maybe it's time to get a comprehensive antivirus solution for your computer to end all your worries related to cybercrime once and for all.
ESET LLC has developed the latest version 14.0.22.0 of the ESET NOD32 Antivirus for Windows, macOS, Linux, and Android platforms to protect your PC against all kinds of malware, viruses, rootkits, ransomware, and spyware. In the following sections, we will be enumerating the features of ESET NORD32 Antivirus and also instruct you step-by-step regarding the installation procedure of the same.
Features of ESET NOD32 Antivirus
The ESET NOD32 is a complete antivirus solution for your computer system, offering features and services that vow to protect all your sensitive data and browsing behavior end-to-end. It allows you to continue using your PC for whatever purpose you choose to - gaming, presenting, or watching a movie - in a seamless manner while keeping everything safe and secure without any interruption or slowdown.
Mentioned below are the key features of this state-of-the-art antivirus solution.
Trusted Antivirus
The acclaimed antivirus protects your system against all types of malware, be it viruses, ransomware, spyware, or worms with multi-layered protection.
Lightweight Functionality
The software is designed to light and easy on your CPU and other computer resources so that you can work, play, or browse the internet without interruptions.
Uninterrupted Protected Usage
The developers guarantee no unwanted pop-ups or random system updates while you enjoy your favorite movie or play your favorite game.
Minimal Power Expenditure
The inbuilt battery-saving mode of the ESET NOD32 allows you to stay unplugged and browse online longer.
Easy Installation & Upgradation
The antivirus is designed for simple setup of all routine tasks, with an easy installation, renewal, and upgradation model.
Easy License Transfer
ESET NOD32 allows you to transfer your antivirus license to macOS or Linux seamlessly, as and when required.
Secure Net Surfing
A robust firewall prevents online threats from accessing your data through breaches and keeps you safe from hackers.
Safe Online Banking & Shopping
With your banking credentials and financial details protected, you don't have to think twice before buying your favorite item online or performing numerous transactions online.
Downloading & Installing ESET NOD32 for Windows
Downloading ESET NOD32 Antivirus
To download the latest version 14.0.22.0 of ESET NOD32 Antivirus for Windows, visit their official website and click on the 'Free Download' button to the bottom right of the screen for a trial version.
Installing ESET NOD32 Antivirus
After the download completes, click on the file to start the installation process. Follow these steps to complete the installation on your PC:
When the ESET NOD32 Antivirus installation wizard appears on the screen, click on the 'Next' button to proceed.

Click on 'I Agree' on the Agreement tab.

Follow the instructions on-screen to start the installation.

When the installation finishes, click on 'Finish'.
There you go! ESET NOD32 Antivirus has been successfully installed on your PC. You can now test out the antivirus solution for the entirety of its trial period, after which you will either have to choose a subscription package or switch to the free version, which offers truncated features. Enjoy safe and secure PC usage.
You might also like