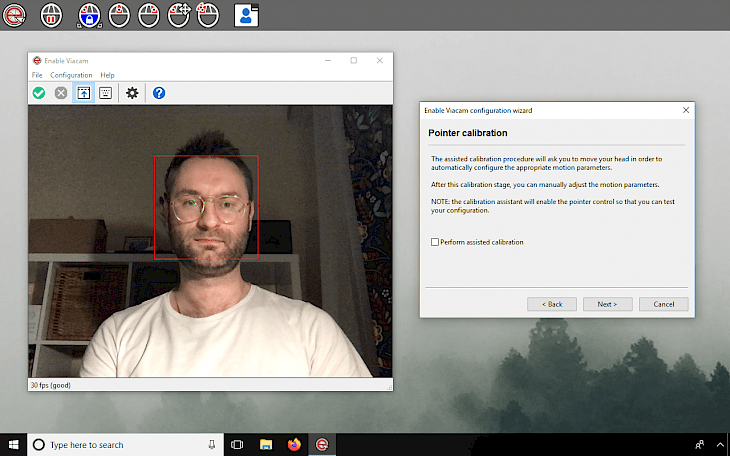 Download Enable Viacam
Enable Viacam is a very interesting software that allows you to move the pointer on the screen with your head movement. In order for the app to work, you will need to have a good quality webcam. No cables, no dots, no additional hardware required. Enable Viacam was created by Cesar Mauri.
Download Enable Viacam for Windows and Linux. The program works on a 32-bit and 64-bit system and was tested to operate on Windows Vista up to Windows 10 operating system, and Linux Debian 10 or above. This is the best free software to control your computer with intuitive head movements.
Enable Viacam helps you to control your PC with your head movement and your webcam. The movement is normal, and while it can feel a bit strange, you will be getting used to it very fast. What's more, the configuration process is simple.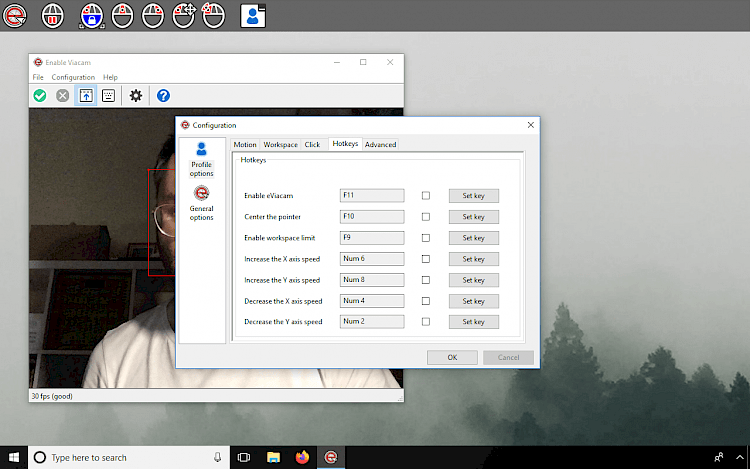 People with disabilities can also find this program very useful. Anyone that can't move a mouse with a hand can do it now using head gestures. This is absolutely amazing that Enable Viacam was released as completely free and open-source software. The program works with most of the webcams.
Enable Viacam offers full customization. From the app settings you can select the pointer speed, motion acceleration and smoothness, dwelling time, and many other variables that can be adjusted to fit every user's needs.
Once you start using this program it will be very exciting and interesting to explore the possibility to move the mouse cursor in a totally different way. With time you can find it not only fun but useful. The software works on Windows and the Linux compilation was created for Debian 10+, and Ubuntu 18.10+.
After installation eViacam will try to detect your face automatically. But if necessary, the user can also disable this feature and manually adjust the tracking area (blue rectangle) around your face. From the Configuration window, you can set the Hotkeys for most-used options, and set other profile options.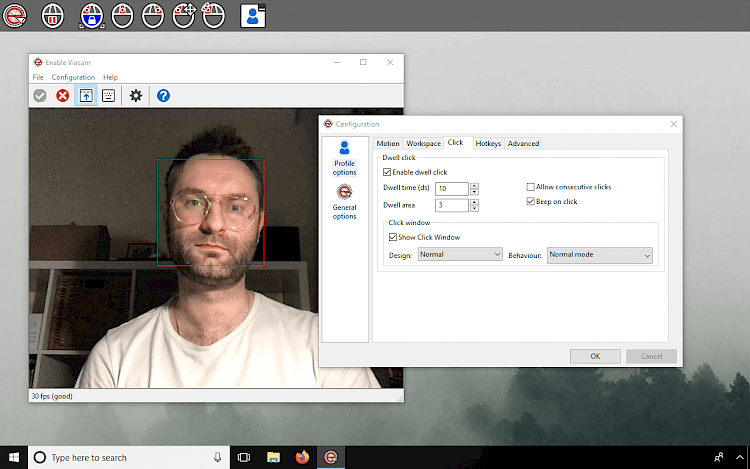 Enable Viacam supports multiple profiles, so you can share the computer with many users. Depending on preferences each user can set its own behavior in the app. The mouse emulator software speaks in 18 languages.
If you want to avoid using a mouse this is the perfect solution for you.
Overall, Enable Viacam is a really amazing webcam based mouse emulator project. Simple installation, intuitive use. The integrated configuration wizard gets you started easily. What's more Enable Viacam is based on the award-winning Facial Mouse software. This is the best solution for hand-free computer usage.
With eViacam, you can easily control your computer without using your hands. eViacam uses a standard web camera to track your face motion and move the mouse pointer accordingly. It also provides several methods for clicking.
Changelog
Version 2.1
Add hotkeys for Windows
Fix support for some cameras, most notability those models integrated into tablets (e.g. MS Surface)
Fix drop down boxes not displaying correctly on Windows 10
Part of the user interface (Click window) is now stored as .xrc files and thus can be modified without recompiling
Fix switched mouse buttons cause problems
Other minor improvements and bug fixes
You might also like