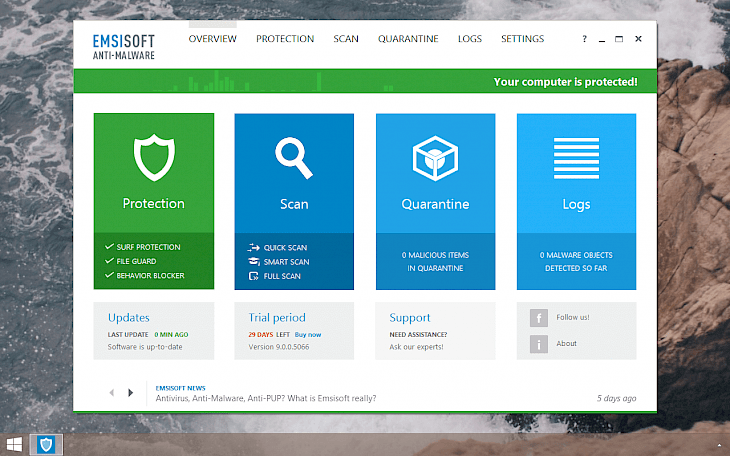 Download Emsisoft Anti-Malware
Emsisoft Anti-Malware is a lightweight anti-malware software protecting Windows system against ransomware, backdoor, banking Trojans, and PUPs. Potentially Unwanted Programs that mess up your computer with useless browser toolbars, tons of commercials and other bulk that slows down the PC.
Emsisoft Anti-Malware 2020 protects Windows against threats like trojan horses, worms, spyware and adware components, dialers as well as keyloggers, backdoors or applications, which in themselves are not a threat, but reduce the security of the system. The program offers also an option to remove potentially unwanted programs, including toolbars and services to the changing home pages and search provider in the browser.
Emsisoft Anti-Malware provides four levels of protection system of the system. This real-time protection layer checks all downloaded and modified files with the awarded super-fast Emsisoft dual-engine scanner. To stop brand new threats that aren't yet known by signatures, Emsisoft Anti-Malware continually monitors the behavior of all active programs and raises an alert as soon as something suspicious occurs. Custom-built behavioral monitoring stops ransomware before it can encrypt any files.
If you unintentionally try to view a website that spreads trojans, spyware, or any other type of malicious software, Emsisoft Anti-Malware 2020 will prevent you from connecting and getting infected. Emsisoft's Anti-Ransomware protection layer is custom-built to detect behavioral patterns of ransomware attacks and stop them before your files can be encrypted. Other anti-ransomware solutions rely on the detection of repeated encryption, so your most valuable files may already be lost before they act.
You might also like