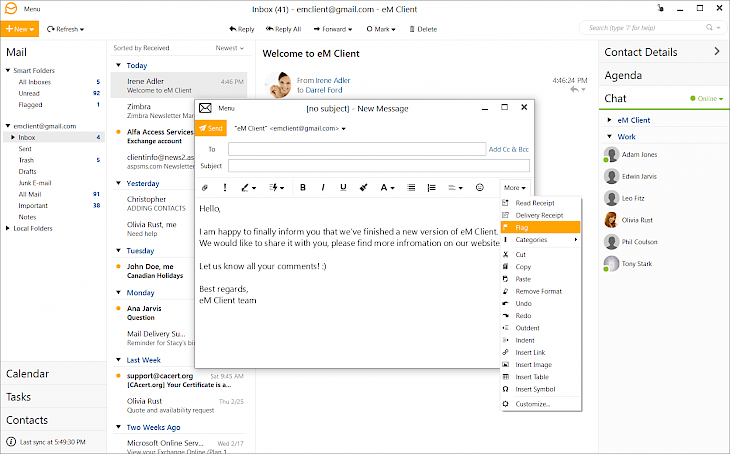 Download eM Client
Are you searching for a user-friendly email client that lets you do a lot more than just sending and receiving emails? The eM Client is an email client for sending and receiving emails, handling schedules, projects, contacts, and notes, based on Windows and macOS. Live chat is also integrated. A user-friendly alternative to existing email clients and calendar solutions, eM Client was created for only the best.
eM Client is a complete email client that also has Calendar, Projects, Contacts, and even Chat support and more than that. You can connect the app to your email accounts via Gmail, Yahoo, Outlook, Hotmail, iCloud accounts via POP or IMAP protocol, and MS Exchange and Google Apps support is also available.
It couldn't be easier to migrate to the eM Client app from your current email client, as you can import all your data directly from Microsoft Outlook, Mozilla Thunderbird, The Bat, or Windows Mail, or you can get started in minutes. Besides, all the data can also be easily exported to several available formats, or backups can be made and restored.
Features of eM Client
eM Client has a variety of email handling functions, including advanced management of rules, mass mail, delayed sending, or a built-in translator for incoming and outgoing messages. For easy searching, it supports signatures, short text, and tagging and categorization. Watch for replies, and email snooze features are available, as well as direct attachments from cloud services such as Dropbox and Google Drive.
The most remarkable of eM Client's features have been elaborated briefly below.
PGP Encrypting
Creating or importing your PGP keys to send encrypted and signed emails is now supported by the program.
Live Backups
For the backup to proceed, you no longer have to exit the app. The program will now back up while running so that even while it is underway, you can simply keep working.
Contact Avatars
The app downloads and displays avatars automatically from the web for your contacts. eM Client downloads from Gravatar, icons for domains, and more.
Table Editing
It has just become a lot easier to edit tables - you can resize any cell, row, or column you want with eM Client.
Resize & Edit Images
It is now easier than ever to paste images into emails. Not only will they be resized to fit automatically, but you will also be able to change the size manually, as well as rotate and flip them.
Gmail Auto-Replying
Gmail's automatic 'Out of Office' responses are now at your disposal. Let everyone know that by configuring the automatic response directly inside eM Client, you will not be able to respond to their emails.
Download & Install eM Client for Windows PC
eM Client can be downloaded for free from the official website or any other tech website easily. The free version supports a maximum of two email accounts. After downloading, run the setup file to complete the installation process.
Once installed, eM Client will appear as a desktop icon on your Windows PC screen, which you can double-click anytime to launch the app. You can seamlessly send out and receive numerous emails, schedule them, and attach various multimedia in them with the help of this software. Enjoy emailing!
You might also like