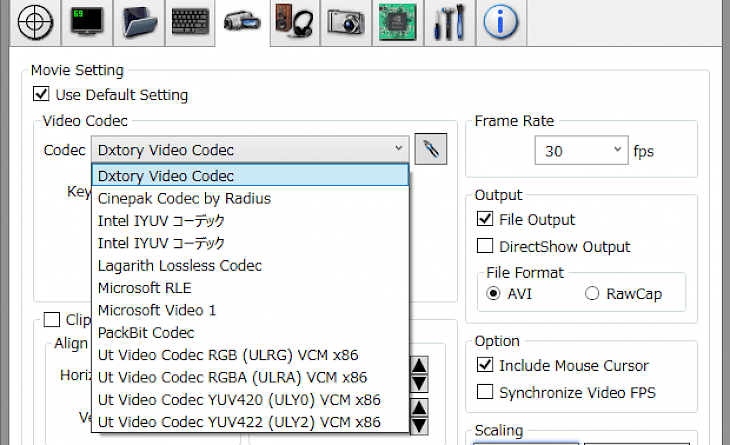 Download Dxtory
Screen recording is one of the essentials in today's modern high-tech world. If you are a beginner or a newcomer to screen recording and willing to record high-quality videos of your gameplay or your favorite show then Dxtory is the best choice for you if you are using DirectX or OpenGL applications. Created and developed by a Japanese software company ExKode Co. Ltd this screen capture tool records the screen without degrading the quality and as a result, you will have good quality recordings.
For regular use, this free recoding tool is an excellent choice to make professional videos and it provides an advanced collection of editing tools to its users.
FEATURES
High-quality capture
You can record the screen in original pixel data without compromising the quality of the video.
Multiple audio recording
Dxtory allows you to record more than one audio. If you are recording gameplay and want to record your voice too while recording the game sound, then you can record multiple audios by using this software. Each audio will record simultaneously and will save independently in AVI Format. You can edit these audios later if you want.
Support Codec
Dxtory will support third-party VFW Codec, hence you can choose any video codec of your choice while using the software.
Screenshots
You can capture screenshots while recording the screen and Dxtory allows you to save those screenshots in various file formats as per your convenience.
Personalization
There are various recording and capturing tools available in the market, Dxtory is considered one of the best choices of the users. Several features that stand out from this recording software from others, personalization is one of them. This software allows you to personalize your recordings as per your interest.
REQUIREMENTS
You can have the tremendous experience of screen recording and editing on the big screen of your system by installing this software on your PC. Before heading towards installing Dxtory make sure that your system should meet the following system requirement.
Operating System: - Windows 10, 8, 7

1GB of RAM

Processor: - Intel Dual-Core processor or later
HOW TO DOWNLOAD?
Dxtory is easy to operate at high speed and to use this excellent software on your system, you will not need an emulator you can run the downloaded software file directly on your system. You can follow the step-by-step guidelines described below to install Dxtory on your PC.
Click on the download button to start downloading this software.
Once the downloading of the .exe file of the Dxtory gets complete, locate the file in your convenient folder.
Now you can run this software on your PC by following the step-by-step guidelines provided.
After following the guidelines and successfully installing the software, enjoy this amazing screen recording software, and add customized graphics to your video.
Dxtory is available for a limited free trial period and you can use its excellent capturing tools in that period and if you like the features you can proceed further with the paid version.
You might also like