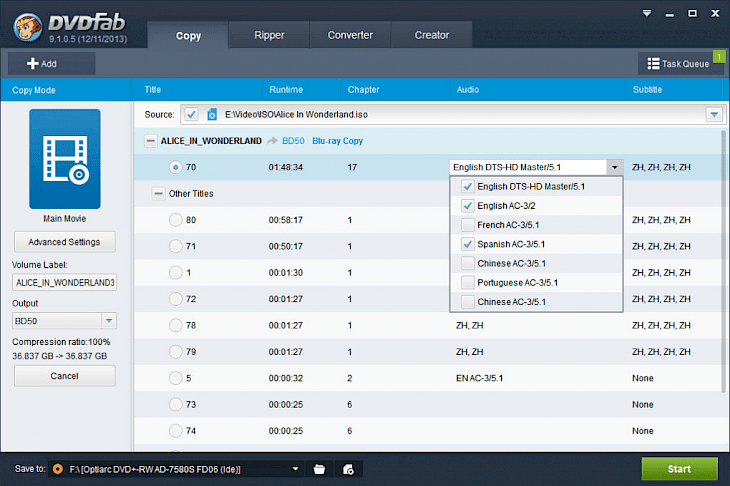 Download DVDFab (64-bit)
Are you on the lookout for software to help you burn disks into your Windows PC? DVDFab 64bit is an excellent professional and powerful tool that allows you to copy effortlessly, backup, burn, or clone any DVD the way you want.
Six available copy modes are available in DVDFab for you to do what you want flexibly, and they are Full Disk, Main Movie, Customize, Break, Merge, and Clone/Burn. You may use DVDFab SE to backup a disc on your computer as a video folder or ISO file, clone a 1:1 ratio disc, burn a local movie on your HDD into a disc, merge two movies into one disc, split a disc into two discs, or compress a high-quality DVD9 to a DVD5. Blindly use DVDFab to complete all the copying tasks for your DVD. Like DVD+R/RW, DVD-R/RW, DVD+R DL, and DVD-R DL, all forms of output discs are supported.
DVDFab 12 includes four main modules, Copy, Ripper, Video Converter, and Maker, as the world's most comprehensive multimedia backup solution kit, and some other great tools such as Cinavia Removal and Enlarger AI to achieve better performance. Plus, a bunch of other beneficial utility tools with fantastic features are also included, such as DRM Removal.
Features of DVDFab (64-bit)
The most outstanding features of DVDFab include the ones mentioned in the section below.
Multiple File Systems Support
Different types of DVDs exist. DVD+R, DVD+RW, DVD-R, DVD-RW, and DVD-RAM may have been heard of. DVD+R/RW is a format supported by Philips, Sony, Dell, Yamaha, and others while Panasonic, Toshiba, Apple, Hitachi, NEC, Pioneer, Samsung, Sharp, and DVD Forum support DVD-R/RW/RAM.
Backup DVD/Blu-ray/4K UHD
Copy DVDs, rip Blu-rays, and back up your hard drive or a blank disc with 4K Ultra HD Blu-rays.
Conversion from DVD/Blu-ray/4K UHD
For your phone or tablet, transform DVDs, Blu-rays, and 4K Ultra HD Blu-rays into media files for the ultimate home theatre experience as well as on-the-go playback.
Conversion from Video & Audio
Convert video and audio files with ease into your desired format.
Downloading Web Video
YouTube, Facebook, Vimeo, Instagram, and 1000+ other websites download free music and videos.
UHD Playback DVD/Blu-ray/4K
Play 4K Ultra HD Blu-rays, Blu-rays, and DVDs with native menu navigation on your PC, Mac or HTPC.
Ultra HD Production DVD/Blu-ray/4K
Professional DVDs, Blu-rays, and 4K Ultra HD Blu-rays are made for home viewing.
Download and Install DVDFab (64-bit) for Windows PC
To download the latest version, 12.0.1.2 of DVDFab developed by Fengtao Software Inc., just click on the 'Download' button on top of this page. Once the download finishes, run the setup installer to install DVDFab (64-bit) on your Windows PC following simple on-screen instructions.
Now you are all set to burn and copy all your old DVDs and Blu-rays into your Windows PC ROM and share them wherever, whenever you want. Have fun!
You might also like