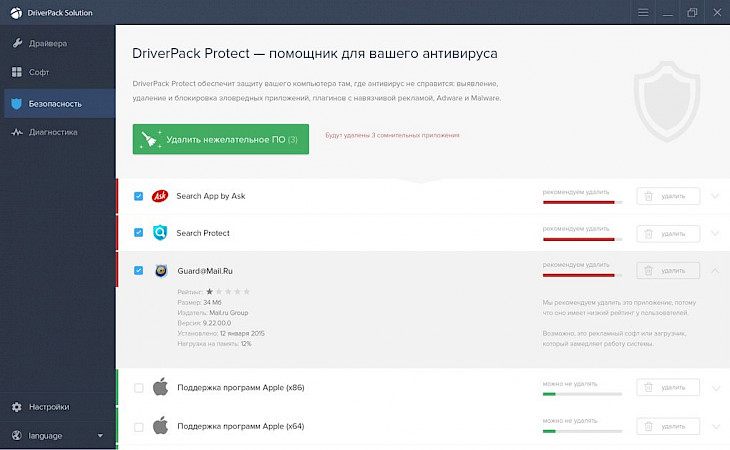 Download DriverPack Solution
DriverPack Solution Online (DRP online) is a software that automates hardware driver installation processes. You no longer have to deal with any more problems when searching for the correct drivers and then installing them, as this programme will allow you to instal all the necessary drivers with just a few mouse clicks on any Windows-based computer (from XP onwards). It supports 64 bit systems as well.
The software is designed to be used by everyone from home users to system administrators, providing you with a simple, convenient, and reliable way to instal the correct drivers for your computer's attached devices and then keep them up-to-date. This app also has the broadest range of support, including USB cards, PCI, ACPI, PNP, and much more for all kinds of devices.
The system drivers installation process will be fully automated when you start using the app. Because it already includes a comprehensive driver database, you don't even need to be connected to the Internet at that time. DRP Online features 1,131,989 drivers manually picked and verified.
Features of DriverPack Solution Online
The numerous features of DriverPack Solution Online have been listed and elaborated below.
Installing Drivers
With DriverPack Solution Online, load all the drivers on every device automatically.
Updates for Pre-existing Drivers
With DriverPack Solution Online, update to the newest versions of the existing drivers.
Around the World Drivers
With DriverPack Solution Online, when downloaded, do not waste any more time. All drivers will find their way to your bag!
All Device Compatibility
For all device and laptop models, DriverPack Solution Online is suitable for Fujitsu-Siemens, DELL, eMachines, MSI, Asus, Acer, Sony, Samsung, HP, Lenovo, Toshiba, and a lot more.
Compatibility Aligned with All Products
The DriverPack Online solution provides drivers for all devices - Wi-Fi, chipset, controller, Bluetooth, modem, web-camera, card reader, CPU, input screen, display, printer, scanner, USB, motherboard, sound card, video card, network card, and plenty more.
Download and Install DriverPack Solution Online for Windows PC
Download DriverPack Solution Online for Windows PC
You can download the latest version of DriverPack Solution Online, that is DriverPack Solution Online 17.11.31, can be smoothly downloaded from the link provided above in this very page on our website. The same software can also be downloaded from the official DriverPack Solution website if you find that convenient. Once you shortlist a suitable source for downloading the setup files for DriverPack Solution Online, you must click on the executable file twice to run the DRP Online installer and complete the installation process for the software.
Install DriverPack Solution Online for Windows PC
After the DSP Online installer appears on your Windows PC screen, you need to follow simple on-screen instructions to agree to the DSP Online user policy and select a suitable folder in your hard drive to install the software, before actually proceeding with the installation process. Click on 'Finish' once the installation ends to quit the setup and launch the DriverPack Solution Online software right away.
Now you are all set to keep your system always updated in terms of drivers and latest updates. Enjoy a smooth, updated system that runs smoothly ever after!
You might also like