Download Drawpile
Drawpile is a networked drawing app that allows multiple users to sketch on the same image simultaneously. Drawpile supports the OpenRaster file format. Drawpile also has basic support for creating short animations, using layers as frames. Animation specific features like onionskin layer mode and a flipbook preview are supported.
The user can adjusted quickly all brushes preferences from the tool box. Five tool slots allow you to prepare presets and switch between them quickly. Drawpile supports pressure sensitive Wacom tablets, and it can also simulate pen pressure based on stroke distance and velocity. You can paint with a soft brush, pixel pen or a watercolor brush. Brushes can be organized into presets and quick access tabs. Use a dedicated eraser tool or turn any brush into an ad hoc eraser.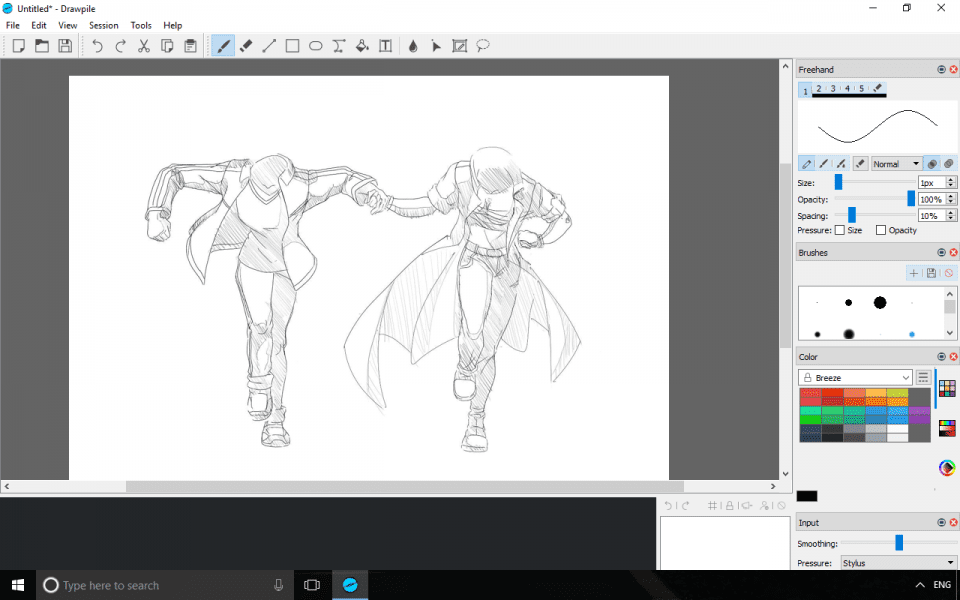 Drawpile supports multiple layers that offer parameters, such as transparency and blending mode. You can also lock individual layers to prevent users from drawing on them or exclusive access can be granted to select users. Skipping ahead and backwards is possible, and interesting positions can be bookmarked. Record a whole drawing session using Drawpile's recording feature. The recording can later be played back and exported into video, or used as a backup.
Drawpile has a built-in server for easily hosting sessions. The dedicated server can host multiple sessions, as well as persistent sessions that can be rejoined even after all users have left. Drawpile also has basic support for creating simple animations, with features such as onionskin layer view mode, animation preview window, and animated GIF export.
You can also configurable canvas shortcuts. Change the shortcut keys for canvas related actions (e.g. scrolling, rotating and color picker mode.) This, unfortunately, meant changing one existing shortcut: pressing the space bar now acts the same as pressing the middle mouse button. This might conflict with existing muscle memory, but the shortcuts are now fully consistent.
You might also like