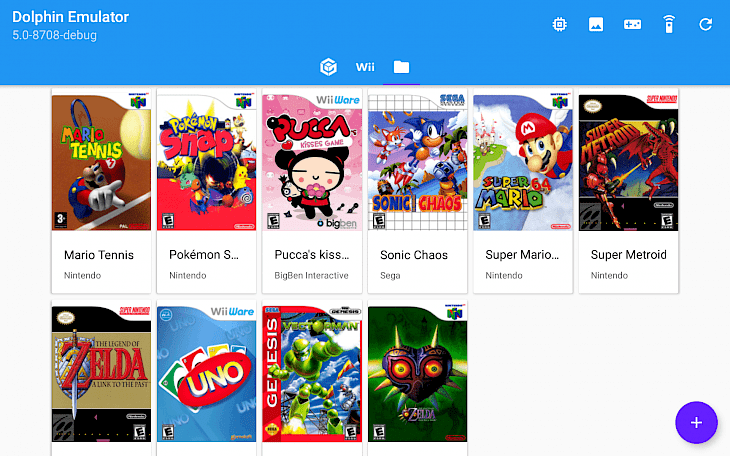 Download Dolphin Emulator
To play your favorite games on PC you will need an emulator or console that facilitates and enhance your gaming experience. Dolphin emulator is one such emulator available in the software market. This emulator software is specifically designed for two recent Nintendo video game consoles, GameCube and Wii. Dolphin emulators allow enthusiast gamers to enjoy games for these two consoles in HD 1080p with various enhancements.
Dolphin emulator enables the user to play games such as Pokemon Stadium one of the acclaimed Pokemon games as it featured 3D graphics. It only requires a quick setup. Mario galaxy is another favorite for Nintendo fans, a game where you hop and stomp your way through puzzles as gather up stars.
Previously, the dolphin emulator is started as a GameCube emulator only, but when Wii has released this fantastic emulator naturally evolved into Wii and GameCube under certain conditions and circumstances. Dolphin emulator is an open-source and multiplatform project that supports the various operating system and everyone can commit the improvement in the software. This excellent platform is actively developed.
Every GameCube game can at least boot on this emulator software, Except one. Star Wars: The Clone Wars and is a complex way of using the PowerPC Memory Management Unit to render this game and make it unplayable in the app. But, finally, as of Dolphin 5.0-540, this challenge has been overcome. Dolphin emulator can finally boot every single GameCube game in the official library.
FEATURES
This fantastic software allows the users to save a running game whenever they want and reload a state.

There are two very interesting features, Anti-aliasing and Anisotropic that make the game more realistic and brilliant and provides an immersive and stunning experience to the gamers. The games on Dolphin emulators look much better and interactive on Dolphin than the original Wii console. The quality of the game depends on the graphic card.

Dolphin emulator allows the users to have a stunning gaming experience and play the game on high-resolution 1080p.

For a better gaming experience, you can connect your Wiimote and Nunchuck to your computer.

This excellent platform works with all windows versions
How to install the Dolphin emulator on the Windows operating system?
Playing games on PC will be a tremendous experience. Dolphin emulators can be used to play games on your Windows operating system. This application is available for smartphones and PC versions as well. To install this fantastic software on your system, follow the instructions described below.
Step 1: It is always preferred to download the software from the official website. To visit the Dolphin emulator site, click https://dolphin-emu.org/.
Step 2: Alternatively, open your browser and search "Download Dolphin emulator for Windows" in the search box.
Step 3: You can choose any trusted websites like filehorse.com from the search result page to download this fantastic game.
Step 4: Once the downloading is completed, click the setup or .exe file twice to start the installation process.
Step 5: Follow the instructions and guidelines very carefully.
Step 6: When the installation process completes successfully. Now you can use this fantastic emulator software to enjoy your favorite games on your PC.
You might also like