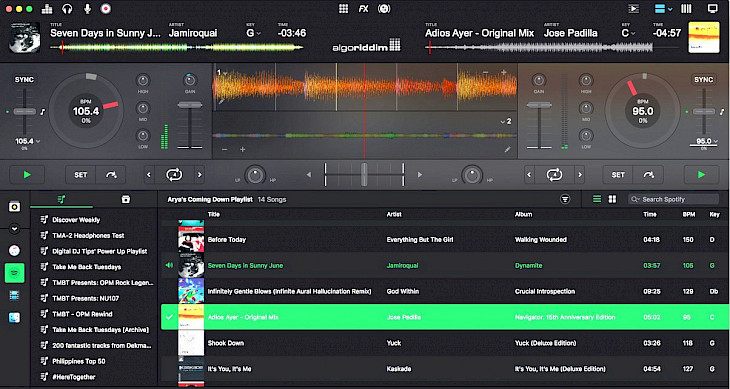 Download Djay Pro
Technical advancement and modern technology change the way of music composition. Various computer applications launch in the market that enables the users to perform live audio performances from anywhere in the world.
Djay Pro is software that provides a complete toolkit for performing DJs of all skill levels. This software is built and developed specifically for Windows 10, but you can use this fantastic platform on other Windows operating systems as well.
This excellent platform provides a wide range of features to the users including high-definition waveforms, four decks, audio effects, and many more. Djay Pro offers a fascinating modern DJ modern interface. To save time and perfectly match your preferring mixing style you can switch between 2 decks, 4decks, sampler, and expanded library layouts.
Fortunately, you will not need any additional setup to use this beneficial software on your system. The user will get an immersive experience with fantastic graphics and plug-and-play hardware support.
FEATURES
Desktop & Touch
This software provides the unique capabilities of Microsoft Surface Lineup and modern Windows computers. Djay Pro leverages all available input methods such as Keyboard, mouse, touch, and the new Surface dial to provide the best possible control to all the features available on the platform.
Pre-Cueing
You can prepare the next song without any delay by using the split output mode or an external audio interface. This excellent software allows the users to cue songs through headphones independently from the mix.
Multi-channel Audio Interface
You will get the benefit of professional Multi-channel output options. You can route your monitor channels through any class-compliant USB audio interface while presenting a performance.
MIDI Control
To work effectively, various DJ Controllers are provided to the users. This platform supports more than 60 MIDI controllers by known manufacturers such as Pioneer DJ, Numark, Denon, reloop, etc. You can map your controller individually by including an advanced MIDI Learn system.
Plug & Play Setup
You can easily set up your preferred DJ system by using this Amazing Plug & Play setup.
Djay Pro provides various other advanced features with a powerful Dj interface, including Sampler recording, Automix, Audio Analysis and Processing, Hardware Integration, Audio FX, and many more.
How to install Djay Pro on your Windows Operating System?
Djay Pro enables the user to rock any party or event without arranging heavy audio machinery and complex instruments. To install this software on your Windows operating system, you can follow the instructions described below.
Step 1: You can download Djay Pro by clicking on the Download button.
Step 2: Alternatively, open your browser and search "Download Djay Pro for Windows" in the search box.
Step 3: You can choose any trusted websites like filehorse.com from the search result page to download this fantastic game.
Step 4: Once the downloading is completed, click the setup or .exe file twice to start the installation process.
Step 5: Follow the instructions and guidelines very carefully.
Step 6: When the process is finished, the Djay pro icon will appear on the desktop.
Step 7: Click on the icon to use this amazing toolkit on your system and enhance your DJ skills.
You can enjoy the amazing features and tools of Djay Pro by using the free 15-day trial version.
You might also like