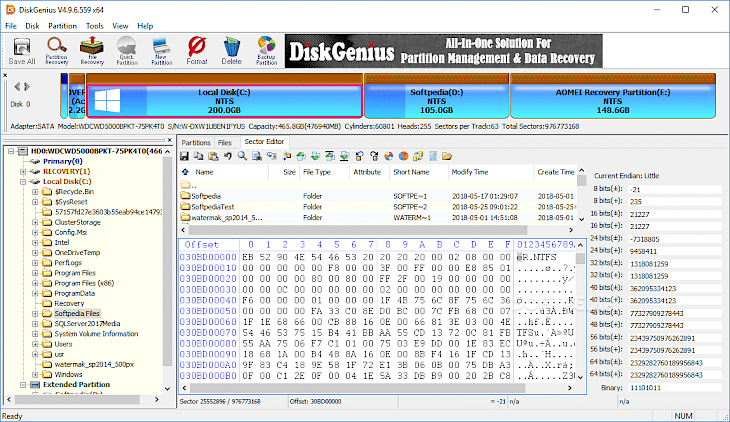 Download DiskGenius
Are you always paranoid about data loss? In various data loss scenarios, DiskGenius, formerly known as PartitionGuru, will restore your files and get you out of trouble.
DiskGenius is a wholly featured partition manager that is optimized for Windows users to maximize disk use. You can resize, expand, break, build, erase, format, hide, copy, and delete partitions to optimize the use of disk space. To keep the operating system under protection, build a system image backup for current Windows with easy clicks.
Change the current partition size safely and efficiently, or divide a partition into two smaller ones without losing any data. One-click Hard Drive Partition. A new hard drive or partition disc that already includes partitions is straightforward to partition. Erase current and disabled data in a partition indefinitely such that files can not be accessed by any process that protects confidential data well.
Disk Genius will help you to build and format a partition with the filesystem format you want. It supports file systems such as NTFS, exFAT, FAT32, FAT16, FAT12, EXT2, EXT3, and EXT4. Build a WinPE bootable disc, and when a device fails or there is no operating system on your machine, you can control the disc partition.
Features of DiskGenius
DiskGenius offers an all-in-one partition backup solution to protect your data from any possible threats in its entirety. The exquisite features of DiskGenius have been detailed in the section below.
Image Partitioning
Efficiently archive everything on a partition into one compressed file over many taps so that when data failure or catastrophe happens, you can recover data from the image file. Build a new partition, remove a partition, hide a partition, and provide the basic partition operation. Detailed parameters of the partitions can be defined.
Partition Cloning
Transfer all data without interrupting any running programs from one partition to another, ensuring a 100% identical copy to the original disc. DiskGenius helps assign or delete Letter Drives. There is also support for the style of the GUID partition table and GPT Disks Service.
Browsing via Image Files
Browse and retrieve files from the image file without the partition being restored, and copy the necessary files/folders to the destination. You can view any files on any supported partition, including hidden partitions, as well as files that are not usually available. You can also forcibly extract files from the supported partitions.
Numerous File Systems Supported
It supports the backup of NTFS, exFAT, FAT32, FAT16, FAT12, Ext2, Ext3, and Ext4 formatted partitions. The FAT12/FAT16/FAT32/NTFS partitions can be formatted easily. You may define the size of the cluster or choose to compress the NTFS partition during formatting. The EXT2/EXT3 file system will read files. Linux Logical Volume Control Support (LVM2). Help for many types of fixed discs, such as IDE, SCSI, SATA, etc. USB flash disc, USB hard drive, and memory card are also supported. It also supports the recovery of deleted files and recovers files from formatted or unavailable partitions of FAT12, FAT16, FAT32, and NTFS.
Download & Install DiskGenius for Windows PC
DiskGenius is available for download via the link provided above. Once downloaded, install the software comfortably before you are allowed to run the tool on your Windows PC. Then, you can easily manipulate and view disk images without any hassle. Enjoy!
You might also like