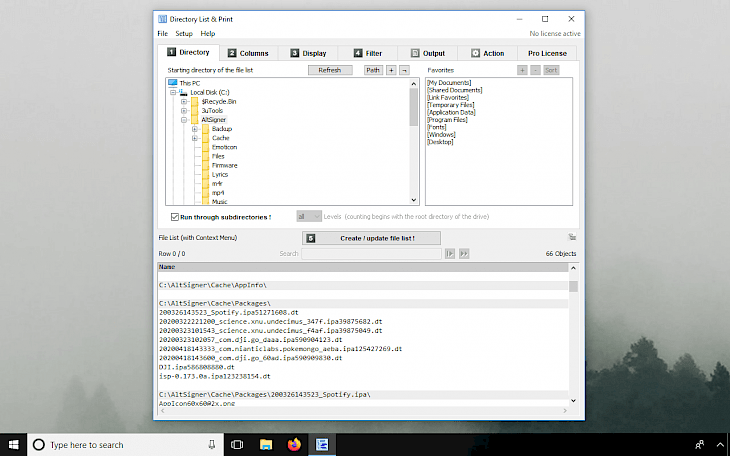 Download Directory List & Print
Directory List & Print is the free edition of a simple program designed to quickly generate a list of files from selected folders. Using this tool you can easily print, and format a list of contents of any folder. The list of files can be directly opened in Word and Excel or can be output as a text file, PDF, HTML, or XML table.
Download Directory List & Print for Windows and list any directory easily. The program works on a 32-bit and 64-bit system and was tested to operate from Windows 7 and up to Windows 10 operating system. Directory List & Print does not require any administration rights for installation.
Directory List & Print can be added to the Windows Explorer context menu in order to display directly the desired directory structure. A lot of features are available.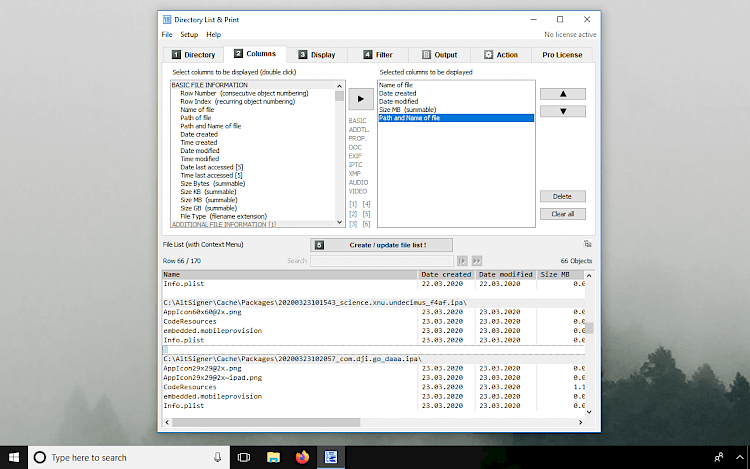 Generating a folder or directory content using this tool is extremely simple. To print a list of files first it's required to select the directory of files and next choose columns to be displayed on the print. Define what type of data should be displayed on the list. Select data such as size, date last modified, attributes, the path to the file, as well as sort the data by name. Create the list to view the results.
What's amazing, Directory List & Print can extract more than 100 meta tags from image files, audio, and video files as well as from documents and PDFs and display information such as title, artist, album, length of a song, recording date, picture format, picture size, camera settings, author, number of pages, creation date or date taken, file size, GPS data with corresponding Google Maps link, etc.
Additionally Directory List & Print displays the number of files available in catalogs. All configuration options are available in the Columns tab. The free version can print the list and copy all results to the clipboard. Only basic features are included.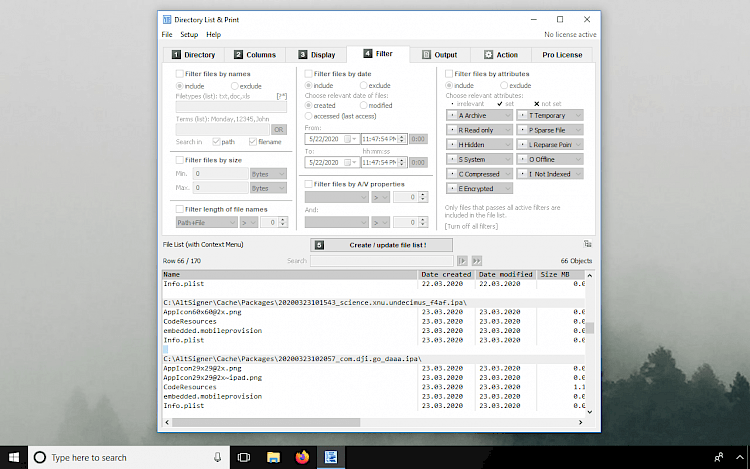 Directory List & Print Pro enables even more features. Use Pro version to copy, move, or even delete files listed from file and directory listings, generate checksum files, such as CRC32, MD5, SHA1, display detailed information including version of the DLL and EXE files, document titles, technical parameters, etc.
If you need full control over the print list, Pro version is packed also with valuable interesting additional filter features, formatting options, and output possibilities. Filter files by date, size, attributes, or name, accessed time, and more.
Directory List & Print Pro enables to open the created file list directly in Word and Excel as well as in OpenOffice or output the data as a text file, PDF, HTML, and XML.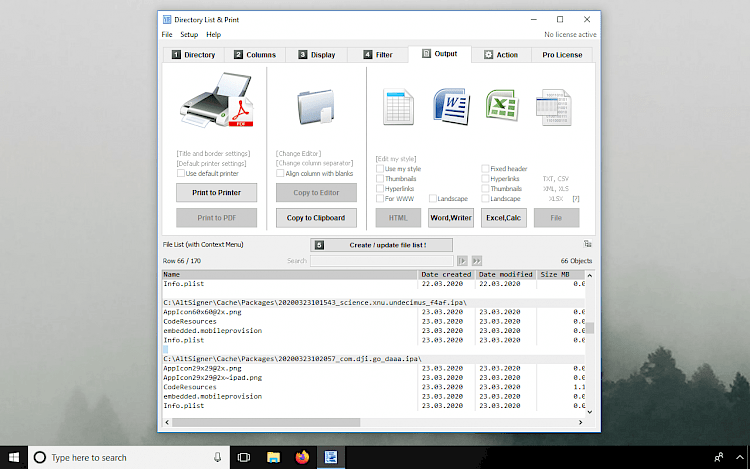 Overall, Directory List & Print Free is a good product with some basic functions to print the directory content. It makes it so easy to generate and print the folder list. If you wondered how to do it, this is the answer! What's more, the Pro version is packed with everything you could think about when you need to get the list organized. Realy useful with huge data collection.
Directory List & Print is definitely the best, easiest, and most advanced Windows tool to list, export, and print folder and directory content. Download the software and give it a try with the free version. When needed upgrade to Pro, it's worth it!
Changelog
Version 4.06
New: Display detailed information for binary documents DOCB and XLSB.
New: Display of XMP tags "Credit" and "URL Webstatement".
New: Display of IPTC tag "Credit".
New: Display of AUDIO and PROPERTY tag "Initial Key".
You might also like