Desktop Earth download for Windows, Mac.
Category: Desktop interface
Version: 3.2.44
Last update: Jul 13, 2019
OS: Windows, Mac
License: freeware
What is Desktop Earth?
Desktop Earth is a tool designed to change automatically the wallpaper on your desktop corresponding to the current position of the Earth. Graphics are generated on data collected from NASA Blue Marble Next and Earth City Lights.
The program allows you to observe in real time the position of the clouds, sun, moon and city lighting. Textures are stored at a resolution of 8192x4096 using 33 megapixels and present themselves fantastically even at 4K resolution monitors. Desktop Earth also has the ability to display all of the data in the form of a small window that can be freely set on the Windows desktop.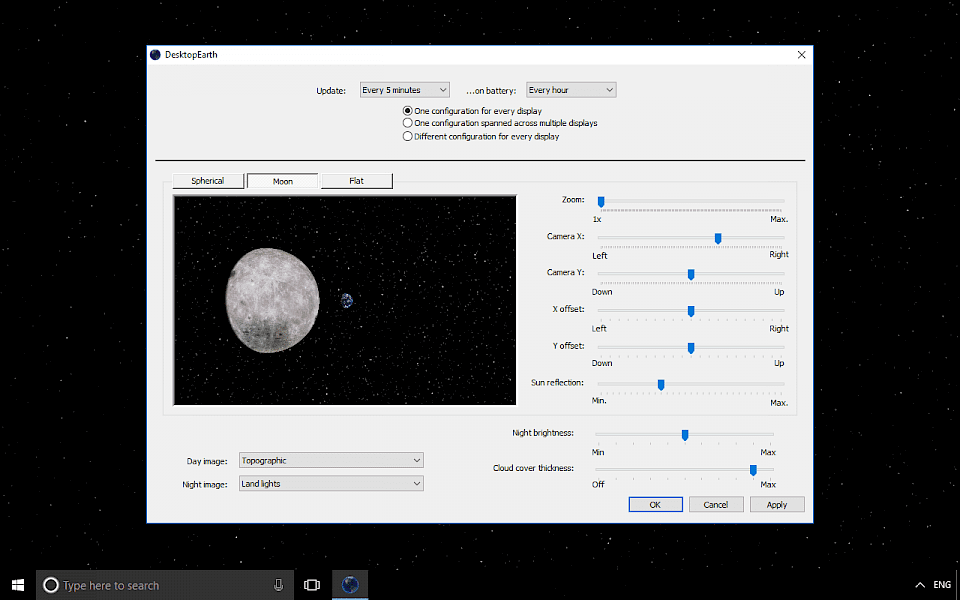 Along with the application system additionally installed a screen saver in the form of a 3D engine based on Desktop Earth. From the settings you can specify the frequency of updating the wallpaper, set the display parameters on Earth or adjust the light reflection.
Related articles
Useful IrfanView Keyboard Shortcuts