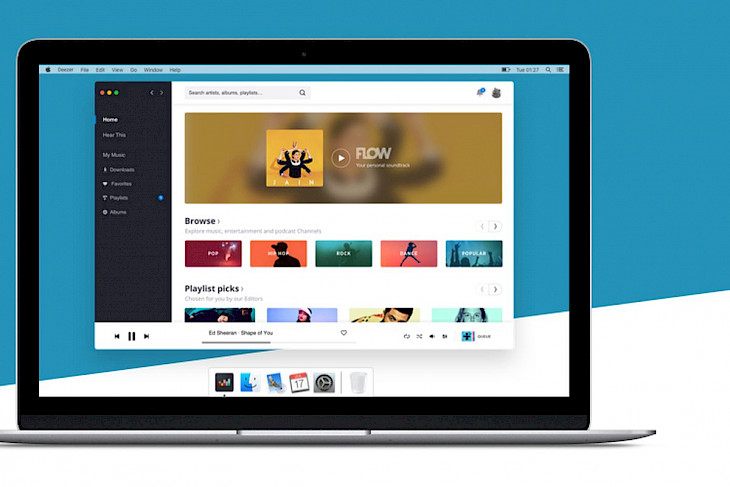 Download Deezer
If you love music and looking for a media player to listen to music all the time, then the Deezer desktop is the best choice for you. Deezer allows users to play audio and video songs conveniently. The software provides a couple of playback control tools and extensive tools features to enhance your experience.
You only have to download your favorite tracks and enjoy them offline, without getting worried about the internet connection. The high-quality sound is just incredible, and you can listen to it anytime. This platform is beneficial for listening and playing multiple audio/video content from live sessions to interview.
The users can browse an ever-expanding catalog of more than 50 million songs without paying a single penny. Deezer PC version is available for Deezer Premium, Deezer Family, and Deezer Hi-fi users.
FEATURES
Hi-Fi enabled- You can enable the Hi-fi to enhance your music experience and sounds better than ever.

Offline mode- You will not need to look for a reliable internet connection to play your favorite content. Deezer allows the users to listen to the tracks or play the video offline.

Hours of Video- To enhance your entertainment, you can watch long hours of videos and live sessions from the comfort of your home without any interruption.

Compatible device- This excellent player offers the user to enjoy their music and play their playlist on Google Home, Amazon Alexa, Sonos sound system, and more according to your choice and interest.

This amazing software allows users to make their favorite collections by adding all their favorite tracks in one tap.

You can share your favorite tracks or personal playlist on multiple social media network platforms.

Deezer provides personalized recommendations and helps you find your new favorite track with the flow.

You can sing along to favorites with lyrics display on the software screen.
How to install Deezer desktop for the Windows operating system?
Deezer desktop is a fantastic platform for those who love music and can listen to it the whole day. The installation process of this excellent software is straightforward. Although Deezer is an android application, thankfully the desktop PC version is also launched by the developer company for user convenience. You will need to follow the instructions described below.
Step 1: It is always preferred to download the software directly from the software's official website. To visit the site, click https://www.deezer.com/en/download.
Step 2: Alternatively, open your browser and search "Download Deezer desktop for Windows" in the search box.
Step 3: You can choose any trusted websites like filehorse.com from the search result page to download this fantastic game.
Step 4: Once the downloading is completed, click the setup or .exe file twice to start the installation process.
Step 5: Follow the instructions and guidelines very carefully.
Step 6: When the process is finished, the Deezer desktop icon will appear on the desktop.
Step 7: Click on the icon and start your tremendous music experience on your PC.
Deezer desktop is only available for the subscriber. Hence, to enjoy your favorite tracks or content on this platform, you will need to subscribe.
You might also like