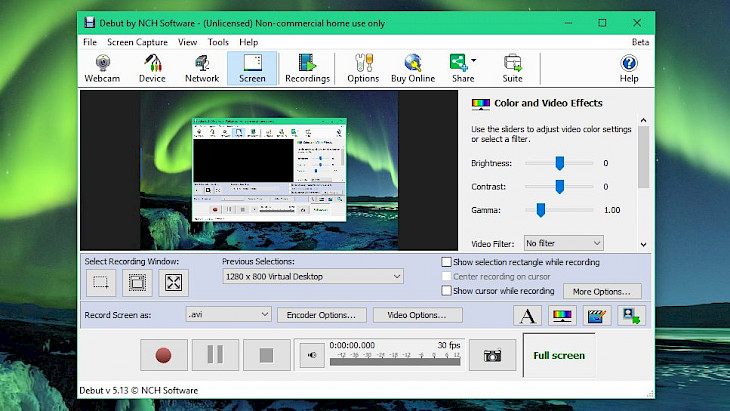 Download Debut Video Capture
The demand for screen recorders is increasing continuously. In the software market, you will get a wide range of screen recorders. NCH Software developed an excellent screen recorder software, Debut Video Capture.
This software application will allow the user to record the real-time image sources from Windows PC and save them as video files on your system. Debut Video Capture supports various devices including Webcam, IP camera, and even VHS tape to record effectively. You can customize your recorded video by adding your text or time stamps.
Debut Video capture offered various features to the users with a fairly intuitive interface. Not only the recording feature, but you can also preview the recordings to present the videos more effectively.
FEATURES
This amazing recording software helps users save the recoded file directly to your system in various formats.

Debut Video Capture supports the most popular file formats including Avi, Mkv, Wmv, Mp4, Mov, and many more.

You can record the entire screen, a single window, or a selected portion. It depends on your choice and preference. This software also supports multi-screen recordings.

The users will get the choice to record video alone or video and audio simultaneously.

The recorded videos can be customized by adding logos and watermarks to the captured screen recording,

You can use this fantastic Mouse highlighting tool to spotlight the specific location of the cursor while recording the screen.

This software can show keystrokes in the recorded video.

You can use the video overlay option to record your screen and webcam simultaneously. This is an excellent feature for YouTubers, gamers, or those who make video tutorials.

Debut Video Capture helps the users to adjust the color settings which proves fascinating for the viewers. If your webcam is of lesser quality, you can improve your recording' image quality by performing various activities like adjusting the brightness, contrast, and gamma.

The users can select the size and frame rate which they want to use to capture the video. By using this fantastic feature, you can create videos for different platforms.

Capture your screen and share your videos on any social media and networking platform.

You can create photo snapshots of any captured or recorded video at any time.
How to Download Debut Video Capture for Windows?
Debut Video Capture is a reliable and easy-to-use application that you can install on your Windows 7, 8, 10 operating systems to record the screen. You can record your meetings, classes, lectures, and webinars using this magnificent software on your system.
Step 1: Open your browser and search "Download Debut Video Capture for Windows" in the search box. You will get a list of websites on your search result page.
Step 2: You can choose any of these websites to start downloading the setup or .exe file on your system.
Step 3: Once the downloading is completed, you can now start installing the software to run it on your PC.
Step 4: During installation, follow the guidelines and instructions very carefully.
Step 5: Once done, enjoy this great screen recording application on your operating system.
This software provides a 14-days trial version to the users. The only drawback is you cannot share your captured video directly to the streaming platform. You have to tangle between various options.
You might also like