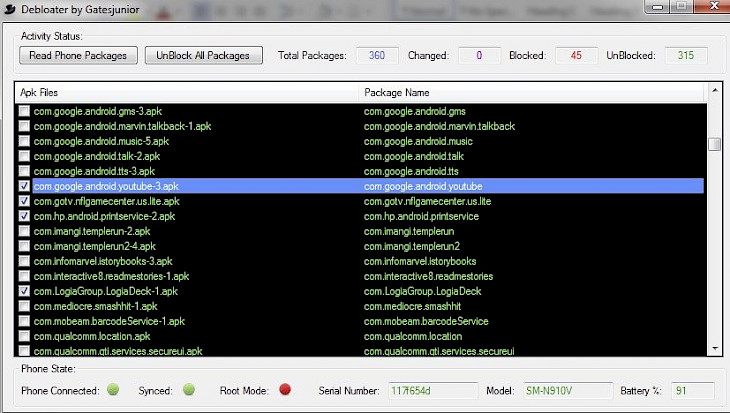 Download Debloater
Debloater is a beneficial mobile phone application that gives full power to PC users over the third-party software and core device services running on Android phones. You can get a complete list of apps installed on your phone with a few mouse clicks (including apps installed by your mobile carrier) and then easily block or unblock them, back them up, rename them, sync them with your local data, and much more.
Android OS has some app management controls, but understanding in-depth techniques and having time to replicate the process on all the apps manually you want to handle is essential to take full control of them. This app streamlines this process by allowing or disabling app loading on your Android cell phone or tablet, saving time, and offering a fast way to tailor your device to your liking.
Features of Debloater
The exceptional features of Debloater are enhanced in the section below.
Easy to Set Up and Use
Inside a minimal installation kit, Debloater comes. Since it needs limited CPU and memory resources, this lightweight program will not tax your PC. With no visual flourishes or eye-catching graphics, the GUI is stark and simplistic. The core feature of the app is the listing page of all detected applications on your mobile device, with limited resources visible on-screen - just two core buttons - Reading Device Packages and Unblock All Packages.
Additional Functionalities
The rest of the visual elements concentrate on showing the status of your device - number of total packages, applications that have been updated, blocked, and unblocked - the communication status, the existence of the toot mode that has been enabled, the device serial number, the device name and the battery level of the device.
Special Actions
Pressing on the Read Device Package will activate the dropdown menu with tools for Backup, Display, Export, Import, and Restoring apps. All the app's interface elements feature their own tooltips for assistance, which is an excellent feature for novices. You will find a comprehensive end-to-end user guide for handling all of this app's features online.
Manages a Plethora of Apps with One Click
All you need is to pick them and then choose one of the available actions to control any of the specified apps. You can permanently disable the loading of pre-loaded carrier applications, for example. Manage at the same time the status of a vast number of users.
Download and Install Debloater for Windows PC
The latest version, Debloater 4.0, can be downloaded from this page on our website by clicking on the 'Download' button above. Once the setup files finish downloading, start the installation process by running the setup installer.
Once the Debloater installer appears on your Windows PC screen, follow the simple on-screen instruction to complete the installation process and launch the Debloater tool immediately after. You will now be able to remove all unnecessary bloatware and junk from your system and personalize your Android phone for yourself, not for the manufacturer. Enjoy!
You might also like