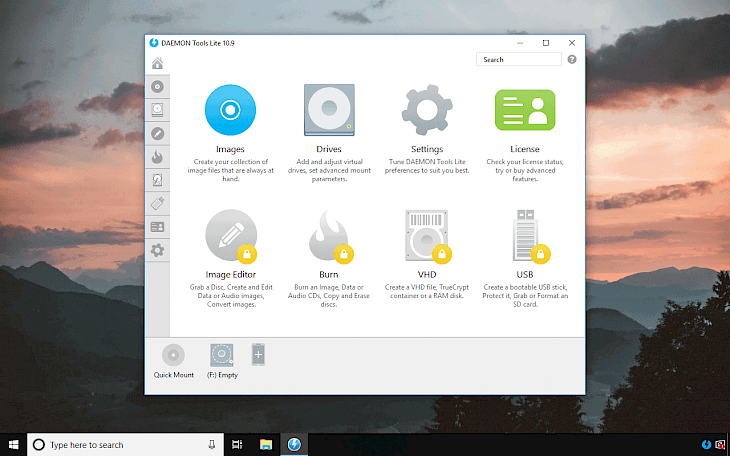 Download Daemon Tools Lite
Daemon Tools Lite 10 is a free edition fo great tool to mount all popular types of disc image files and emulates up to 4 DT + SCSI + HDD devices on Windows or Mac. It enables you to create images of your optical discs and access them via software catalog.
Use Daemon Tools Lite to create images from optical discs, data files and Audio CDs, or access VHD backups and TrueCrypt containers. The software supports all popular file formats including .B5T .BT6T .BWT .CDD .CDI .BIN .CUE .APE .CUE .IMG .ISO .ISZ .MDS .MDF .MDX .NRG .PDI .FLAC .CUE .DMG .VHD .VMDK .TC/.VC .ZIP/.7ZAKAI CD.
The app offers only basic functions and this include mount disc images, mount VHDs and TrueCrypt files, grab images from physical discs, organize images catalog, and emulate max 4 drives. Daemon Tools Lite download is available for Windows and Mac users.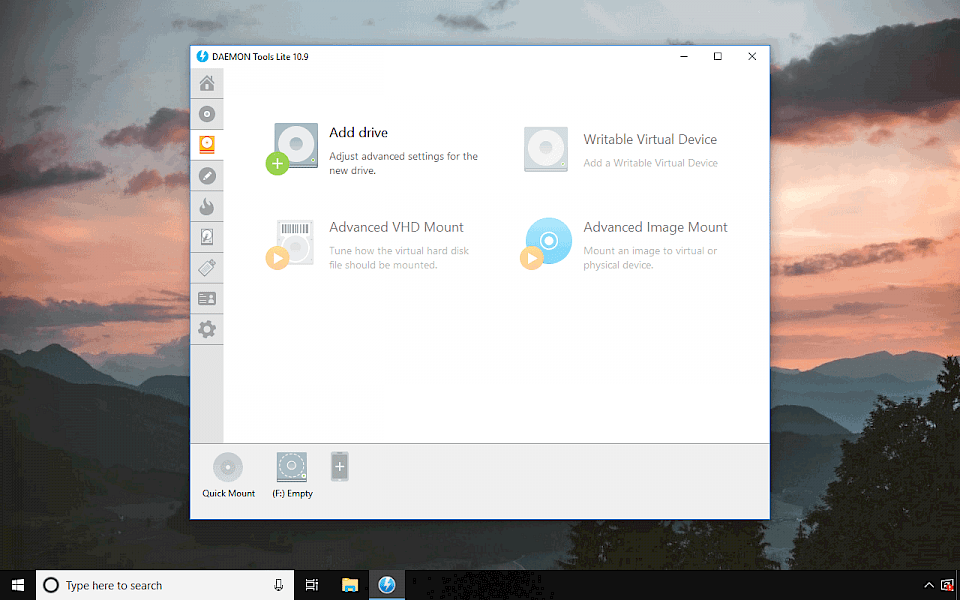 Catch available in Daemon Tools Lite allows you to exchange files among the PCs, and mobile devices that are in the same local network. To make Catch work make sure that DTAgent.exe is launched. Otherwise, you will not receive any notifications about incoming files. From the License tab you can activate premium features for few days.
The software allows you to activate Image Editor, Virtual HDD, Disk Burn, Bootable USB, iSCSI initiator, advanced mount features, unlimited drives, virtual burner, and integration with Windows Explorer. You can but specific options separately.
The most advanced version Daemon Tools Ultra has much more to offer. You can create up to 256 DT + 32 SCSI drivers, convert and edit images from files, burn images, data and audio CDs, copy and erase discs, create VHDs and TrueCrypt files, emulate IDE devices, add a RAM disk to get better PC performance, protect USB sticks with password, create Live USB devices, install Raspberry Pi OS to SD card, create Virtual Writable Devices, or even back up files to disk, VHD or TrueCrypt container. Burn images, data and audio files to optical media, and erase discs and copy them on-the-fly using Daemon Tools software.
Disc Soft Ltd. offers Daemon Tools Lite, Pro, Lite Personal, and Ultra. Only the Lite version is available for free. The new version of the virtual drive supports all Windows system starting from Windows Server 2008, Windows 7, to Microsoft Windows 10. If you are using older version of Windows you can download older version of Daemon Tools.
Daemon Tools Pro
Daemon Tools Pro is an advanced imaging software offering classic interface, with option to use available features via Windows Explorer. Pro version is known as professional emulation software to work with disc images and virtual drives.
You can use it to emulate up to 32 DT, HD and SCSI drives together with 4 IDE devices, attach virtual drives to physical ones and set advanced emulation options, and emulate disc burning process with Virtual Burner.

New feature of Daemon Tools Pro 8 include option to create raw disk images from USB device, burn Raspberry Pi OS to SD card, and restore factory settings of USB stick. Daemon Tools Pro is bundled also with advanced imaging tools.
Create new and edit existing Audio CD and Data images, convert, compress and protect image files with password, burn data with RMPS, make Audio CDs and copy discs, store all favorite image files in handy Images catalog like in Daemon Tools Lite.


Daemon Tools Lite was back in the day, my favorite software to emulate CD/DVD on Windows 98. I used it to mount ISO images to run games without need to find and use the original CD. The software was a perfect solution for this. Today the software offers a lot more features then option to mount disk images.
You can use it to month VHDs and TrueCrypt files, grab images from physical drivers, organize images, emulate DT/SCSI devices, burn images, create RAM disk an more. DAEMON Tools Lite download offers free version for home and non-business use only. Daemon Tools is available in 4 versions Litle, Pro, Lite Personal, and Ultra.
The free software is packed with only basic options allowing you to emulate up to 4 drivers, create and manage disk images, and create images from CD/DVD.
You might also like