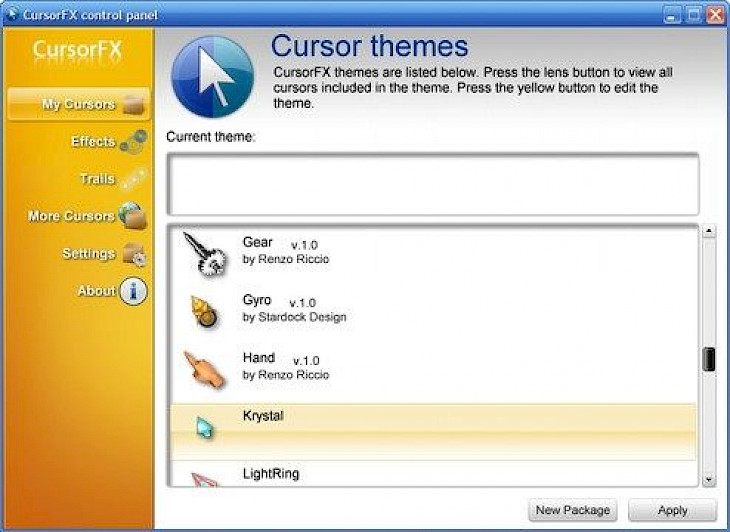 Download CursorFX
Are you tired of staring at the same white arrow that has whirred around the expanse of your computer screen for years? Do you want to add a bit of zing and pep to it? Then look no further, the CursorFX software is here to serve you. This software lets you create skins and transform your plain-looking cursor into a visually appealing one. It doesn't sound very grand because only a tiny part of the desktop's landscape is being changed.
However, for users who delight in the little things, CursorFX will be quite the treat. It is filled with ample stock of cursor skins tailor-made to suit different themes. Make your pick from this vibrant collection of animated cursors. And if by chance, none of them suit your liking, you can opt to create one instead of using the cool tools that are inbuilt in the app. CursorFX, therefore, guarantees that you won't leave empty-handed as there is always something for someone.

Key Features Of CursorFX
Impressive Gallery
There are many applications, both offline and online, that guarantee to serve your cursor designing needs from their collections. But none boast of a collection as crisp as that of CursorFX. With over 13 customizable cursors with smooth motion graphics, it beats every other app's slightly laggy cursors. You can turn your cursor to anything you want, be it an immobile jet plane or a shimmering water droplet.
Customize Your Cursor
Using the inbuilt tools, you can customize your cursor according to your preference. Starting from changing the color, saturation, and hue to more advanced settings like animation effects, glow, and shadow, CursorFX gives you complete liberty to personalize your cursor. It provides you with a design module where you can fashion your cursor to fit your liking.
Easy-To-Use
You would think creating and customizing a cursor is a tricky task. But CursorFX begs to differ. It requires no tutorial of any sort. Once it launches, you will find everything that you need under different tabs. Scour through the library of inbuilt cursors first. If at all you are dissatisfied with it, then simply move to the customization tab and start crafting your very own cursor!
System Requirements Of CursorFX
Ensure that your system meets the following requirements:
It should have a Windows 7/8/10 operating system

The embedded processor should be Intel or AMD
How To Download It On PC
Follow the given instructions to install CursorFX successfully on the system:
Click on the download button. You will be directed to another wherein clicking the download button initiates the download of the .exe file.

After the .exe file downloads, run it on your system. A setup window pops up wherein you have to follow all the installation instructions.

When you finally go through all the installation steps, CursorFX will get downloaded on your system.
You might also like