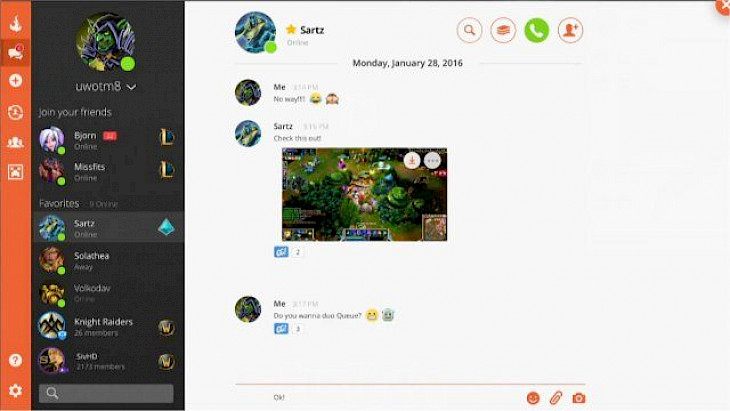 Download Curse
Communicating with your teammates or fellow players, while playing a video game is essential. Curse provides you a platform and a complete online tool to make your gaming communication more convenient and better. This fantastic software proves beneficial to build the teamwork spirit in gaming.
Curse is a simple but effective tool with advanced features that are ideal for both, beginners and experts in equal measure. This fantastic software is effective and provides high-performance and excellent functionality. The software has opted for a keyboard and other input devices to chat effectively during the game. If you are willing to communicate via voice then you can use the inbuilt speech synthesizer available on this platform
FEATURES
Chat
Chatting while playing is an enormous experience. This fantastic platform allows users to chat with their teammates by sharing the content, attachments, and custom emoticons.
Voice
Communicate with your team effectively with crystal-clear audio. For better sound quality, curse offer features such as Voice activation, packet-loss concealment, and a custom audio engine to provide an immersive experience from the ground up for gaming.
In-game overlay
You can communicate and accept in-game calls without leaving the main gaming screen. The software enables the user to see who's calling the shots with unique voice indicators.
Safe
Online threats are everywhere and can reach you from any source. The curse will protect your devices from malicious online threats by keeping your IP private and protected.
Discover
Millions of people share their views and enthusiasm on their favorite game or for a genre of game, on this fantastic platform. Curse helps you to find the right community that fits you or relevant to your interest or choice.
Friend sync
The gaming experience will be much better if you play your favorite game with your friends. This friend sync feature will allow the user to quickly add your friends and make the interaction more effective and productive.
How to install Curse on the Windows operating system?
Curse is an effective platform to chat, interact, and have a tremendous gaming experience on your PC. You can make new friends by interacting and connecting with tons of communities and streamers sharing their ideas and experience on this fantastic platform. To install this software on your Windows operating system you will need to follow the instruction described below.
Step 1: You can download Curse by visiting the developer's official website.
Step 2: Alternatively, open your browser and search "Download Curse for Windows" in the search box.
Step 3: You can choose any trusted websites like filehorse.com from the search result page to download this fantastic game.
Step 4: Once the downloading is completed, click the setup or .exe file twice to start the installation process.
Step 5: Follow the instructions and guidelines very carefully.
Step 6: When the installation process completes successfully. To use this software first you will need to register and make your account and then proceed further to enjoy various features of this application.
This fantastic software application "Curse" has been acquired by Twitch and now it is available as a twitch Desktop App.
You might also like