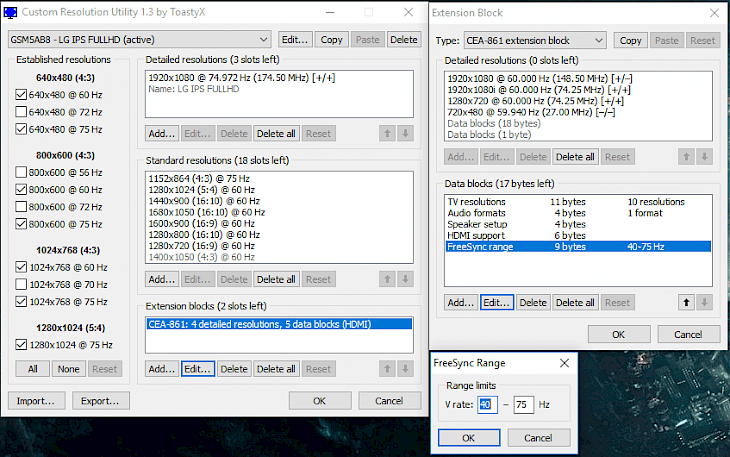 Download CRU
You cannot install an application without the setup files. To create a system file you should have all the right system files that are integrated into your operating system. CRU (Custom Resolution Utility) is an excellent software that allows the custom resolution to be defined for both AMD and NVIDIA GPUs by creating EDID overrides registry directly without dealing with .inf files.
This fantastic software represents how the monitor defines resolutions and other capabilities and empower to change them. CRU deals with the soft copy module available on the monitors. The software adds monitor resolutions, not scaled resolutions.
The main challenge is when your GPU is of a higher level because there is no way to downgrade it. CRU is a portable file that uses the .exe file format that you need to run on the command prompt. You will need to choose the type of monitor from the available list. This excellent software lets you see the active and inactive monitors which prompt you to run a few configuration settings.
This process needs to be repeated for all monitors. As long as you press the OK button, you accept the changes. To allow the driver to integrate with the system and use it with ease, you will need to reboot your system. In a nutshell, this software acts as a driver that supports the viewing of files from the monitor.
FEATURES
To add custom resolutions, the detailed resolution is preferred by the software.

HDMI limits depend on the graphic card.

HDMI is treated as a single-link DVI unless the HDMI support data block is defined in the first extension block.

Passive DisplayPort to HDMI adapters is limited to 165 MHz unless the driver is patched.
Requirements
Windows Vista or advance (Windows XP does not support EDID overrides)

AMD/ATI or NVIDIA GPU with the appropriate driver installed (Microsoft basic display adapter drives does not support EDID overrides)

Intel GPUs and a device like laptops with switchable graphics are supported with one of these following drivers:
New Intel GPUs are supported with the latest drivers.
6th generations (Skylake): Intel Graphics Driver for Windows (15.45)
4th/5th generations (Haswell/Broadwell): Intel Graphic Driver for Windows [15.4]
4th generation (Haswell) for Windows 7/8.1: Intel Graphic Driver for Windows 7/8.1 [15.36]
How to install CRU (Customer Relation Utility) for Windows Operating System?
Installing CRU in the Windows operating system is not a complicated task. You will need to follow the instructions described below.
Step 1: You can download CRU directly from the CRU developer's official website.
Step 2: Alternatively, open your browser and search "Download CRU for Windows" in the search box.
Step 3: You can choose any trusted websites like filehorse.com from the search result page to download this fantastic game.
Step 4: Once the downloading is completed, click the setup or .exe file twice to start the installation process.
Step 5: Follow the instructions and guidelines very carefully.
Step 6: When the process is finished, the CRU icon will appear on the desktop.
Step 7: Click on the icon to use this beneficial software on your system.
Custom Relation utility is available for 32-bit and 64-bit Windows operating systems. If anything goes wrong, you can download "reset-all.exe" which can be run to revert any change you have made with CRU.
You might also like