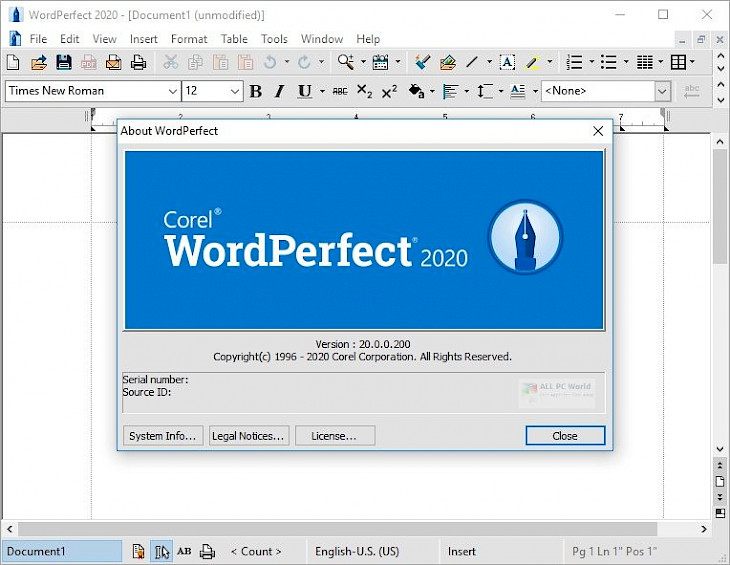 Download Corel WordPerfect Office
Corel WordPerfect Office is a beneficial word processor that allows users to create documents letters, presentations, and spreadsheets to represent their data more effectively in a pleasant manner. This excellent software is compatible with more than 60 file formats and provides a tremendous user experience. Perform multiple functions with built-in PDF functionality, enhanced Reveal Codes, e-book publishing, and the Paradox database management system. This software is beneficial for individual and business use as well.
To provide a better user experience this fantastic software provides compatibility, power, and affordability. The legal-specific tools and features are beneficial for the user.
FEATURES
Built-in PDF
You can create, edit and share your files in PDF format directly from your system without any additional cost. The PDF format on the platform helps the user to share the documents, charts, and presentations in an organized and pleasant manner.
Popular Features Improvements
The developer is working continuously to enhance the features of this amazing software. This fantastic software is popular worldwide and you can enable the users to create more powerful documents, persuasive presentations, dynamic spreadsheets, and captivating slideshows with expanded reveal codes. The helpful add-on will prove useful in one or another way.
Microsoft Office Compatibility
Corel WordPerfect Office helps the user to open, edit, and share files with more than 60 formats support including Microsoft Office (.docx, .xlsx, .pptx).
Improved Workflow Efficiencies
The tools offered by this fantastic software will save you time. Discover the interactive PDF tools, reveal codes, eBook publishers, mail merge experts to complete the tasks easily.
Save to multiple formats
Multi-tasking is the key to get productive results. This fantastic software helps you save your documents in various file formats such as PDF, WPD, and HTML5, the file can be saved in all these formats simultaneously. The "Save to multiple Format" option will consequently save your time.
Multiple Monitor Support
Corel WordPerfect Office helps the user to open different files on different monitors. This would facilitate the user to work in a more productive way by working on different monitors simultaneously.
Main Applications
Besides the advanced and beneficial features, this fantastic platform includes a wide range of applications that provide an immersive user experience. Here is the list of extremely useful applications that you can use freely while using this software.
Quattro Pro Spreadsheet Program

WordPerfect Lightning digital Notebook

eBook Publisher

Paradox database management system

Corel ScreenCap

More than 900 TrueType fonts

More than 300 Templates

More than 10,000 clipart images

The pocket Oxford English Dictionary

WordPerfect Address Book

AfterShot 3 photo-editing and management and more.
How to install Corel WordPerfect Office on the Windows operating system?
Corel WordPerfect Office provides a tremendous user experience on the big PC screen. To install the software on your Windows Operating System, you will need to follow the instructions described below.
Step 1: You can download Corel WordPerfect Office directly by visiting its official website.
Step 2: Alternatively, open your browser and search "Download Corel WordPerfect Office for Windows" in the search box.
Step 3: You can choose any trusted websites like filehorse.com from the search result page to download this fantastic game.
Step 4: Once the downloading is completed, click the setup or .exe file twice to start the installation process.
Step 5: Follow the instructions and guidelines very carefully.
Step 6: When the installation process completes successfully. Now you can use this fantastic software on your system to represent your data pleasantly
Corel WordPerfect Office provides a 30-days trial version to the user. After this trial period, you have to pay to continue the services.
You might also like