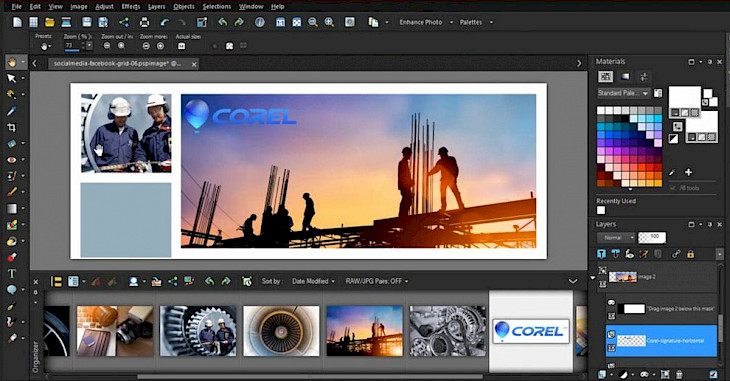 Download Corel PaintShop Pro X9
Are you looking for a master photo editing and image manipulation software that will empower you to take your photographs to the next level? Get everything you need with the best-ever set of premium photo apps from Corel PaintShop Pro X9 to take your pictures to bold levels.
Start with Corel PaintShop Pro's powerful image editing and compositing, then turn your great images into ON1 Perfect Effects 9.5 with hundreds of presets and customizable filters. With PaintShop Pro Ultimate, including a quicker, more straightforward PaintShop Pro and an exclusive bonus set of premium software you won't find in Photoshop, you can get Photoshop-like results for less.
Features of Corel PaintShop Pro X9
With Corel PaintShop Pro X9, you can defy the ordinary and refrain from being boring. Use the app, the smarter, quicker, more intuitive photo editor app with a premium program bonus pack, to capture life and spark your imagination.
Corel PaintShop's most enigmatic features have been mentioned briefly below.
Create Jawdropping Animations
With PhotoMirage Express, a single picture is transformed effortlessly into a fascinating animation in just minutes. It's ridiculously simple and addictive to bring your photos to life, and it's a breeze to share your masterpieces on social media.
A Plethora of Editing Tools
Parallels Toolbox has over 30 macOS and Windows resources and is an all-in-one solution. Quickly solve the problem with a single click, save your disc space, produce high-quality content and easily customize the presentation on your computer. This cost-effective tool suite replaces several programs on your computer.
Create Digital Art
Be a Painter Essentials 6 digital artist. This easily-learned painting scheme turns your pictures into astonishing oil, pastel, or sculpture. Or learn from scratch to paint, draw and sketch using pencils, plumes, and particles in a friendly environment.
Unique Collection of Effects & Filters
Cross the gap from technology to art with access to thousands of the most common photographic effects. Now you have the best tool against mediocrity for the photographer and one of the best instruments for artistic stimulation. Click on your way to quickly achieve some of the most demanding photographic effects and most importantly, take them to flash.
Revised Toolkit
The tool for selection has only become more efficient. You can pick an item with extreme precision and precision up to one strand of the hair in addition to a refined brush in your selection toolkit. To believe it you must see it.
Download and Install Corel PaintShop Pro X9 for Windows PC
Corel PaintShop is essentially a paid software but offers a 30-day free trial for the ones trying it out for the first time to check out if the software meets their requirements. Therefore, the software can easily be downloaded from the official Corel website or any other third-party affiliate website for the trial.
Once the download is completed, launch the setup installer and follow simple on-screen instructions to complete the installation process. Upon completion, you will notice a desktop icon of Corel PaintShop Pro X9 on your Windows PC.
Now you are all set to edit and manipulate images like a professional photo editor. Enjoy letting your imagination run wild and creating fantastic visuals!
You might also like