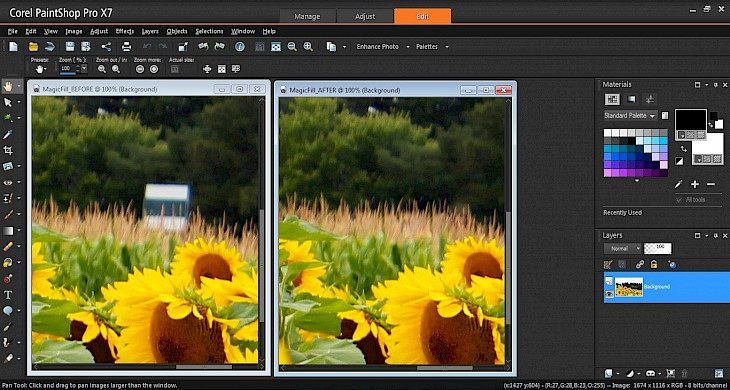 Download Corel PaintShop Pro X7
The image editor is getting popular these days. In the software market, you will get various editing software that enhances your pictures and make them more fascinating to the viewers. Corel PaintShop Pro X7 developed by Corel and published by Jasc Software is one of the flexible editing software which provides all the essential and advanced tools which you can use to modify different images.
This software is the best choice for advance level editors and if you are a beginner you need some time to get familiar with Corel PaintShop Pro X7.
FEATURES
To achieve creative stimulation this fabulous software provides access to thousands of photo effects that make your image more attractive and effective. Not only the photo effects, but you will also get a variety of editing tools on one platform.
You can transform your ordinary image into a magnetizing animation in just a few clicks without any extra effort. Easily bring your photos on this platform and after performing the necessary editing share your masterpiece with your friends and closed ones on the social media platform.
Corel PaintShop Pro X7 has some great features. Transforming your pictures into a painting is one of them. You can become a painter by using the painting program in the software. This amazing tool turns your picture into an amazing artwork made from colors pastels. You can also draw your piece of work by using a pencil, pens, and other drawing stuff available on this editing platform.
You can adjust, make easy corrections, and enhancement in multiple pictures at once by using the advanced processing and editing tools available on the software.
You can create web banners, collages, social media posts, and creative cards by using the wide range of templates available on the Corel PaintShop Pro X7. These templates and filters will help you to create wonderful designs effortlessly.
This software also has an advanced feature of clone making. You can merge multiple images and integrate these images into one. This integration results in some very interesting designs and compositions.
REQUIREMENTS
Before installing this software on your PC make sure that your system should match the following minimum system requirements:
Operating System: - Window 10, 8, 7

Processor Speed: - 1.5 Hz

Minimum 2 GB of RAM

Minimum 1 GB of hard drive space
HOW TO INSTALL?
Although the installation process of Corel PaintShop Pro X7 is quite lengthy once you download this mesmerizing software then you will enjoy the tools offered by this software.
To start downloading, click on the Download button start downloading this software.
Once the downloading of the .exe file of the Corel PaintShop gets complete, locate the file in your convenient folder.
Now you can run this software on your PC by following the step-by-step guidelines provided.
After following the guidelines and successfully installing the software, enjoy this amazing editing tool on the big screen of your system.
This software provides a 30-days trial version to its users so that you can get exposure to its amazing tools. For the best user experience, Corel PaintShop not only provides excellent editing tools but also offered video tutorials, written guides, and tricks, and tactics for those who are willing to enhance their skills.
You might also like