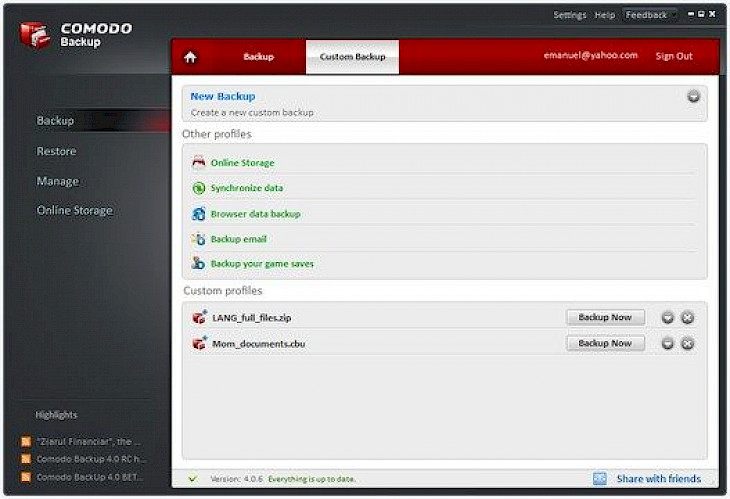 Download Comodo Backup
Are you looking to backup your data online? Do you seek a tool that lets you do that, effortlessly? Comodo Backup is a simple and powerful tool that makes it possible for users to build backup copies of sensitive files quickly and easily. Free of charge, its features include full file and folder duplication to local/network drives and FTP servers, smart incremental backups, e-mail monitoring, detailed report logs, 'synchronization' mode real-time backups, advanced rule-based filtering, flexible backup scheduling, archiving capabilities that save room, and more.
Easily backup files or directories anywhere on your device, network, CD-RW or FTP server. Prevent yourself from ever losing those vital files that took hours to make. Schedule backups to automatically run at a time that matches you. Synchronized backups - save disc space by compressing your backups as ZIP files. Set up in minutes with an intuitive interface. Suitable for both beginners and network administrators, Comodo Backup can be set to run on Windows startup and as a Windows service.
Features of Comodo Backup
By shortening the usually complex task of backup configuration to a few clicks of the mouse, Comodo Backup makes it simple to be safe and stable. Free licence for life. Download now and forever get an exclusive licence and updates completely free of charge.
The remarkable set of features Comodo Backup has to offer are enumerated in the section below.
Online Backup
10 GB of online storage space is provided for 90 days for each user. Entry to your space is readily incorporated into the app, enabling you to start uploading files instantly.
Single Click Backup
The tool's selection of pre-defined profiles helps you to start a single-click backup task. Custom profiles that best suit your needs can also be developed.
Backup Anywhere
Network drive, hard drive, FTP, DVD/CD, ISO, zip, online storage - the app can have the file copied to it. You name it!
Intelligent Profiles
All your documents, images, music and video files will be auto-detected and grouped into a profile so that you can back them up with one click.
User Interface and User Experience
The user interface makes it simple to perform basic tasks while providing instructions and data all the way through.
Technology and Innovation
This raises the bar with unique innovations such as 1-click backup, online drive, backups for self-extraction, disc mirroring, algorithms for configurable encryption, and more.
Support from Experts
Experts who know all about ComodoBackup stand by round-the-clock if you need help with something.
Download and Install Comodo Backup for Windows PC
Comodo Backup 4.4.1.23 can be readily downloaded for use from our page by clicking on the 'Download' button above. Once downloaded, you can double-click the setup file to launch the installation and complete the easy installation process.
Upon installation, Comodo Backup appears as a desktop icon on your Windows PC screen and can be accessed whenever, wherever you want to upload and backup data effortlessly and seamlessly. Enjoy gigabytes of online storage for all your files with Comodo Backup!
You might also like