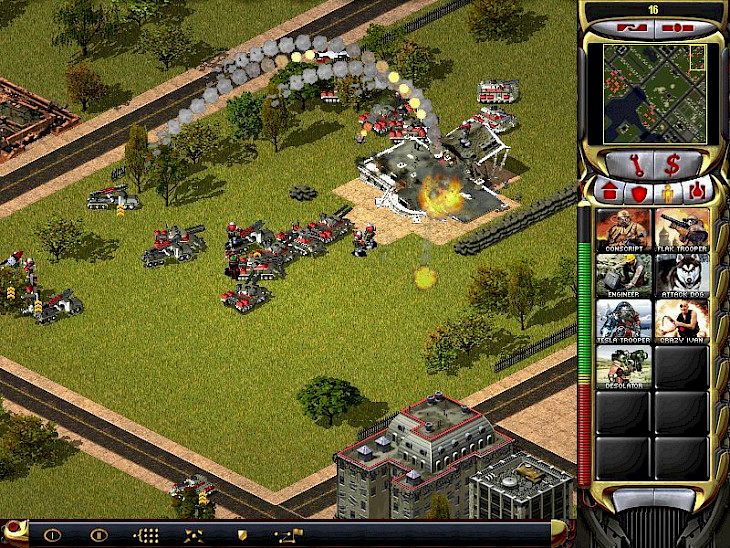 Download Command And Conquer: Red Alert 2
For a game that was released in 2000, the Red Alert series still manages to sustain in today's world of detailed 3D graphics. The first game was released in 1996. Red Alert 2 is the 2000 sequel to the strategy riddled game set in the era of World War II. Red Alert gamers will remember the significant ending of the Allied Campaign from the first game. It would have been cruel to leave them hanging, and that is why Westwood Pacific, the developing team behind Red Alert, decided to give it a well-deserved sequel. The high voltage action is considerably less in this game. However, it takes a more polished look into the dreary War World setting. The chief focus of the game is the brewing bad blood between the Soviets and the Allies, ultimately culminating into a war that the Tiberian Sun can't escape. That is the basic plotline. To know more about the features, head to the next section.

Key Features Of Red Alert 2
Build Your Refineries
One of the characteristic features of the Red Alert games is the refinery building provision. This refinery not only acts as horde of your resources. But it also doubles as fortified defence against enemies. You are provided with different production tabs. Under each tab, a new armor can be built. Vehicles, towers, walls, troop enhancements, weaponry are all counted as components of armoury. Since you are given limited resource facilities, you need to use them wisely. Decide on what component of armor is most needed at a point and then purchase it.
Choose Your Side
You can choose to be with either the Allies or the Soviets. There are no biased characteristics bestowed on either side. They boast of equal strength and power. They only distinctly differ when it comes to mining resources. Resource gathering is an important feature of Red Alert 2 and so it is vital that the side you choose mines generous amount of resources at a single time.
Send Your Troops
When heading to the warfront, game plans are essential. You are in charge of building the most effective of them. Assemble your troops on the frontline. Organise them into groups and send them in different directions so your map is completely navigated. Surprise enemy units with your infantries and make sure no enemy is left standing.
System Requirements Of Red Alert 2
It should have Windows XP/Vista/7/8/10 operating system.

The embedded processors should be either Intel Pentium III or AMD Athlon MP

The recommended graphic cards to be used are AMD Radeon 7000 64 MB or NVIDIA GeForce 6200 LE
How To Download It On PC
Follow the given steps to successfully install Red alert 2 on your system
Click on the download button, you will be directed to another page. Clicking the download button on this page initiates the setup file's download.

Once the download completes, run the .exe file. On the setup window, follow the installation instructions.

When you finally click 'Finish', Red Alert 2 will get downloaded on your system.
You might also like