Coc Coc download for Windows, Mac.
Category: Web browsers
Version: 79.0.108
Last update: May 27, 2019
OS: Windows, Mac
License: freeware
What is Coc Coc?
Coc Coc is based on the most popular web browser on the market - Chromium. The browser is using a Blink rendering engine with supports for the latest Web standards. It offers also a built-in BitTorrent client and option to download videos from popular websites.
Among the main features of Coc Coc you will find a integrated download manager, the ability to synchronize passwords and your favorite sites between different devices, support for extensions adding interesting features to the browser, spell checker, a inkognito mode that allows to browse the web without saving the data to a local disk and a built-in Adobe Falsh Player running in a sandbox.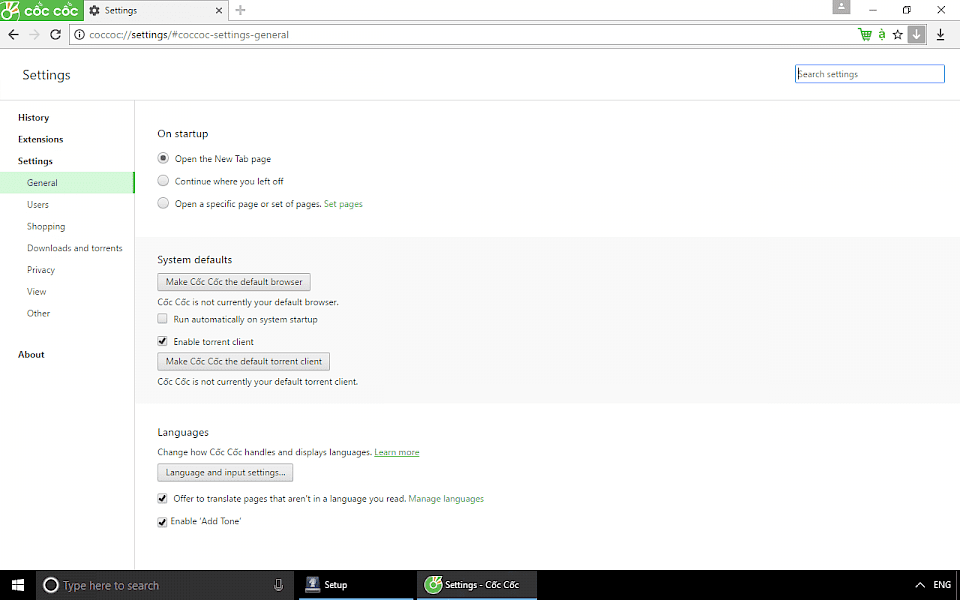 Coc Coc is a modern browser that supports all the new Web technologies including HTML5, CSS animations, JavaScript / ECMAScript, DOM, SVG, XML, XHTML, geolocation, orientation on mobile devices and GPU acceleration for the canvas. The browser also automatically add Vietnamese tones, can check spelling of very long passages with recognizion of slang: hix hix, hĩ hĩ, and offers support for video download from services like Zing, Nhaccuatui, Phim14.
Coc Coc Alternative
| Software | License |
| --- | --- |
| Chromium Browser the open-source projects behind Google Chrome. | BSD |
| Mozilla Firefox is one of the best Desktop web browsers. | MPL |
| Vivaldi Browser great replacement for users loving Opera 12. | freeware |
| Maxthon Browser the browser with built-in Passkeeper, Mail Client and Note. | freeware |
| Brave Browser browser 2 times faster than competitors on desktop. | MPL |
| Opera is a browser with built-in ad blocker and free VPN. | freeware |
| Slimjet useful features packed in the browser. | freeware |