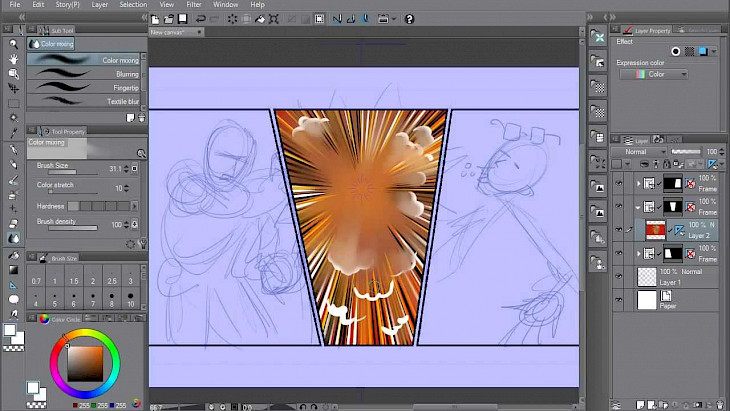 Download Clip Studio Paint EX
Drawing on a computer has never been easier. Well, for those used to the mouse interface of getting creative drawings on a soft copy for them, it might be a piece of cake. However, for those who find it hard, there are electronic pens and other tablets that help get the respective drawings. These tablets run on Windows and offer a much better latency between the pen and the surface.
Although, the software also matters when you are into drawing and doing all kinds of things. For this, out of the hundreds of dedicated applications out there, we have one exciting drawing tool. Check it out.
What is Clip Studio Paint EX?
Clip Studio Paint EX is a fully-fledged drawing tool with features that help artists and other manage creators flaunt their creativity without any hassles. It comprises several features that help illustrators depict their creativity without any difficulty and ensure that the application is approachable by beginners and experts. There is no learning curve in using the software, but it does feel different.
However, it's quite similar to that of drawing on a piece of paper. Once the drawing is over, the user can export the file in any format they prefer and start an older saved file to edit it even more.
Key Features of the Software
The tool is geared towards the artist's minds where they can flaunt their creativity. The graphics, along with the animations of strokes and brushes, make it a wholesome experience of sketching and drawing on an electronic surface. There are tutorials on the website where you can learn it and practice more to get the tool's complete hang.
The software is designed so that every stroke that is undertaken is recorded and gives you multiple layers of sensitivity. Moreover, the hardware does matter when you are using the tool. Ensure that you have a high-end drawing tool to make complete use of the software.
There are well over 1000 different software tools that let users draw and depict their thoughts into illustrations. It's a limitless supply of tools that gives a helping hand to your creative ventures and depiction.
Minimum System Requirements
OS – Windows 8(64-bit) or higher

RAM – 8GB or higher

Storage – 5GB or higher

Hardware – tablet of a computer with touch integration and stylus support
How to Download and Install it on PC
The software is available on its official site, where you can either download the full version or a trial version. Whatever it is, download the one necessary.
Upon downloading it, open the files and setup the installer. Set up the preferred installation directory along with other settings and leave the installer to installer the software.
Upon successful installation, enjoy using the drawing tool seamlessly.
You might also like