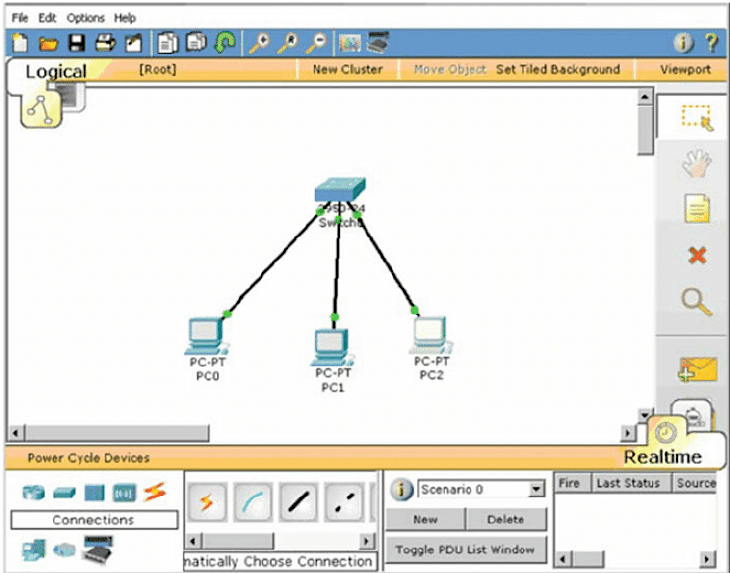 Download Cisco Packet Tracer 6.2
Developed by Cisco Systems as a preliminary tool for its students, Cisco Packet Tracer is a network simulation environment used to emulate Cisco-powered routers and switches. It was created for the sole purpose of providing hands-on experience in working with networks for students. The Cisco Network Academy mandates the use of Packet Tracer for both its instructors and students. This is why you will find two versions of the software online; one for instructors and one for students. It is part of the CCNA and CCENT curriculum enforced in the academy. Both budding and professional network engineers can work on custom network protocols in the Packet Tracer environment. This yields important practical knowledge on the subject of the network system.

Key Features Of Cisco Packet Tracer 6.2
Test Network Protocols
Engineers are provided with a networking sandbox, wherein they have the full liberty to experiment on various network protocols. Packet Tracer supports all types of protocols, be they application-based, transport-based, or network-based. Moreover, it lets an unprecedented number of devices connected in a network. These can be both 3G and 4G devices. Therefore the Packet tracer 6.2 unlocks an unlimited range of options for the user to experiment on network-device combinations.
Provides Intense Training
For students and instructors working for Cisco Certified Network Associate (CCNA) and Cisco Certified Entry Networking Technician (CCENT) certifications, Cisco Packet Tracer provides a proficient training ground. Users can deploy their practical networking knowledge here, as well as visualize how their networks are turning out to be using the real-time simulation environment.
Addition Of Sniffer
Earlier versions of Cisco Packet Tracer lacked this feature. A sniffer device is used for performing a thorough analysis of network traffic. It comes with inbuilt filters that help compartmentalize networks according to the traffic intensity. With the sniffer device, users get a better perception of packet flow in networks. This develops better network crafting skills.
Fixture of Bugs
The previous versions of Cisco Packet Tracer were not without fault. But this new version rectifies them all.
System Requirements Of Cisco Tracer 6.2
Before you proceed with the software download, ensure that your system meets the following requirements:
It should have Windows XP/Vista/7/8/8.1/10 operating system.

The embedded processor should be Intel Pentium or greater.
How To Install It On PC
Follow the given instructions to install the software on your system in no time.
Scroll all the way down the page. You will find a download button at the bottom. Click it.

You will be redirected to another page wherein another download button appears in a few seconds. Click it to start downloading the zip file.

Once the zip file is downloaded, extract its contents. Run the setup file that you find among the contents.

Follow all the installation instructions that show on the setup window. Once you are done doing so, Cisco Tracer 6.2 will be successfully installed on your system
You might also like