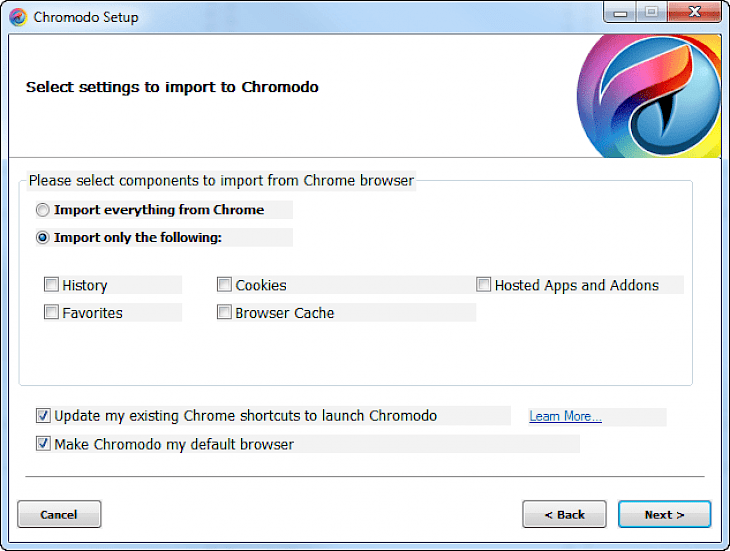 Download Chromodo
The browser you select plays a significant role in your browsing experience. Developed by Comodo, Chromodo is a freeware and secure web browser that you can use to have a safe and better experience in online browsing. The features provided by this fantastic web browser are just awesome. With the unparallel level of security, you will get a secure platform to surf the internet safely.
If you are concerned about data protection or online privacy then this is an ideal choice for you. This platform is quite similar to the Google Chrome browser. Chromodo offers an inbuilt website scanning tool that detects suspicious websites and protects your system from malware and other online threats. This fantastic web-browser automatically blocks the ad trackers and provide more security setting for private browsing.
FEATURES
Inbuilt website scanner
While surfing or browsing on the internet, we have to pay attention to the online threats that not only steal our information but also damage our devices. If you are suspicious about a website, then this platform will help you out. The web inspector in the software allows the users to scan any URL to detect the malware or virus before they visit that site.
Ad-blocker
Chromodo enhances the browsing experience of the users by providing Comodo's PrivDog browser extension. By automatically blocking the unnecessary and suspicious advertising network this excellent extension strengthens your online privacy. These advertising networks are quite threatening sometimes and track your activity.
Private browsing
If you are willing to browse privately then you can use the incognito mode offered by this platform. In this incognito mode, no cookies are being saved or stored during the browsing sessions.
Better certificate handling
While working on this fabulous web browser you will notice that during the HTTP sessions, the tool address bar can be used as an indicator that indicates the class of SSL certificate used by the website this includes, extended validation, organization validation, or domain validation.
Drag and drop browsing
For instant research, you can simply drag any text or image to the right of the browser. This will save you time.
Share pages instantly
You can share any of your files or discoveries directly on social media by using the 'share page' button available on this application.
Inbuilt downloader
Chromodo has a fantastic inbuilt downloader that enables users to download any audio or video from platforms like YouTube and other streaming websites.
How to install Chromodo on your PC?
Chromodo is a great web browser application for those who are more inclined towards privacy concerns. To install the PC version of this software you can follow the instructions and guidelines described below.
Step 1: It is always preferred to install this software from the developer's official website.
Step 2: Alternatively, open your browser and search "Download Chromodo for Windows" in the search box.
Step 3: Now, you will get a list of websites on your search result page. You can select any trusted website like filehorse.com to download the setup file of this software.
Step 4: Once you have downloaded the setup file, follow the step-by-step guidelines and instructions to start the installation process and run this software on your system.
Step 5: After following all the steps, click on finish, and now you can use this fantastic software on your Windows operating system
You might also like